WWE Star Braun Strowman meets Indian astrologer in India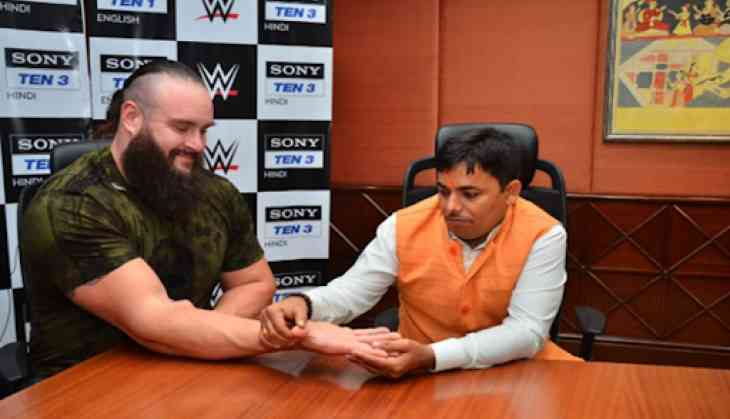 World Wrestling Entertainment (WWE) is popular in India too. Many people here are die hard fans of WWE stars, and the market in India has increased over the years. The Vince Mcmahon led company have hosted shows in Mumbai and Delhi, joined by Bollywood stars in the past. The company is trying to capitalize on the wrestling entertainment market in India.
Every year the company conducts shows and WWE superstars visit India. this year it was 'the monster among men', Braun Strowman who visited the country.
Bollywood stars like Varun Dhawan and Salman Khan also met the Superstar wrestler who stands at six foot eight and weights at Four hundred and forty pounds.
The most amazing part about his visit was when the monster offered his hand for palmistry to an Indian astrologer.
Also Read: Bollywood actor Varun Dhawan flex muscle with WWE superstar Braun Strowman
An Indian astrologer reads @BraunStrowman's palm and predicts his future. Can you guess what it looked like? ;) pic.twitter.com/lgG6xqY9E1

— WWE (@WWEIndia) July 23, 2018
It is difficult to ascertain what the astrologer predicted for Strowman, but the superstar has the ability to bounce back from any obstacle, that is for certain.
Srowman had a difficult start to his career and work as a mechanic to make two ends meet. However, his determination and resilience in pursuit of his dreams landed him to the biggest wrestling entertainment company of the world.
During his visit to India, Strowman also met young athletes from the Special Olympics International, contest winners, and children's hospital patients. The Monster also addressed the WWE's talent recruitment strategy to find more talent in the country.
Also Read: WWE Superstar Braun Strowman meets Salman Khan, Sonakshi Sinha, Kamal Hasan on the sets of 'Dus Ka Dum'