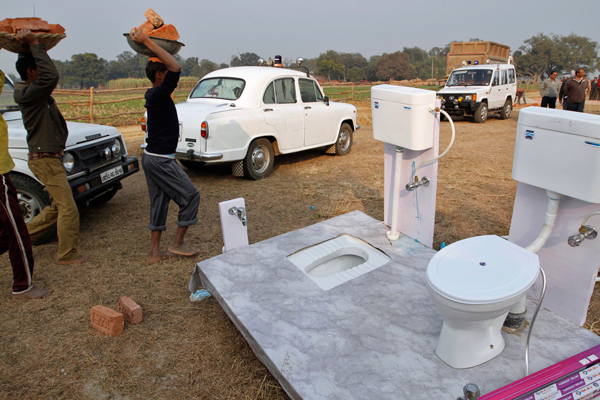 Under government's 'Swachh Maharashtra Mission' 19 cities in the state have achieved the status of being free of open defecation.
The state government has set a target to achieve a complete open defecation-free status by 2018.
"Maharashtra has always been a pioneering state for practising cleanliness. Sant Gadgebaba Swachhta Abhiyan gained a huge success in the state. Maharashtra has received many national awards under the Nirmal Gram Yojana," a senior official from Urban Development Department (UDD) said.
"The 'Swachhtechi Saptapdi' initiative for urban cleanliness in the state has given further impetus to the mission led by Chief Minister Devendra Fadnavis," he said.
In the first phase, 19 cities from the state reciprocated to the pledge by taking several initiatives for cleanliness and they achieved the open defecation-free status.
The cities that have achieved the open-defecation free status are - Mahabaleshwar, Panchgani, Wai, Satara, Malkapur (Satara), Panhala, Malkapur (Kolhapur), Vengurla, Khed, Chiplun, Guhagar, Dapoli, Mahad, Roha, Matheran, Bhagur, Mowad, Kurduwadi, Karmala and B and C wards of the Municipal Corporation of Greater Mumbai.
"The initiative taken by these cities is a first step towards transforming Maharashtra into a clean and open defecation-free state by 2018," the official said.
In the second phase, 31 other cities will become free of open defecation and a target of 49 open defecation free cities will be achieved by March 31 next year, he said.
Mr Fadnavis, while addressing a meeting of the heads of municipal councils a few months back, had initiated the 'Swachhtechi Saptapadi'.
He had explained the term as seven steps to cleanliness that include extensive public participation, 100 per cent use of toilets, waste collection, classification, transport, scientific processing of wastes, processing of drainage water and creation of a 'Green Maharashtra'.
The UDD official said awareness about sanitation is a must and before becoming smart, cities need to become clean.
Malkapur Municipal Council's deputy president Manohar Shinde said, "Malkapur in Karad tehsil of Satara has become open defecation free in the first phase. It has a population of around 44,000 and they are providing 24X7 water supply through metered system," he said.
"Water tax collection is around Rs. 1.5 crore and we received two awards from then Prime Minister Manmohan Singh. Open defecation was not a challenge for us as we had already done a lot for the city," he said, adding, that the Council is also providing free bus services to girl students.
-PTI