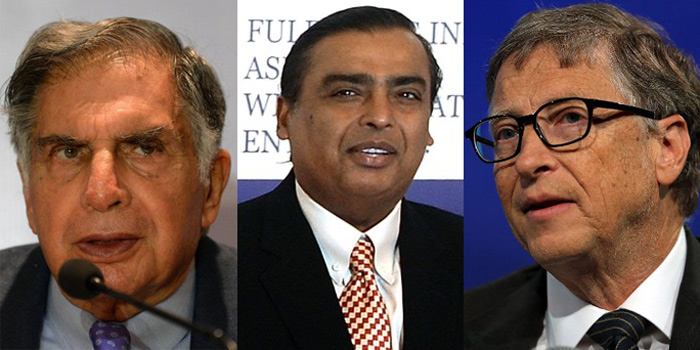 A coalition of close to 30 of the world's wealthiest investors has come together to form the Breakthrough Energy Coalition aimed at converging resources to catalyse the development of clean energy technologies in the world.
These investors will include billionaires Bill Gates, Mukesh Ambani, Ratan Tata, Jack Ma among others. The initiative will be unveiled by Bill Gates today along with Mission Innovation, which will be hosted by the US President Barack Obama after inaugurating the 21st Conference of Parties summit (COP21) in Paris.
The move will coincide with India's pitch for an International Solar Alliance of over a hundred solar energy rich countries.
Gates has been advocating doubling the investment in clean energy initiatives so as tackle the needs of providing access to growing needs as well as to reduce carbon emissions.
The Coalition is expected to help the governments in achieving clean energy goals. In a statement, the group said that it aims to close the gap between commitment towards a new energy concept and transforming it into a profitable and usable technology, which "neither government funding nor conventional private investment can bridge."
Initial issues on the agenda of these private investors include electricity production, transport, industrial use, agriculture and energy efficiency.
Here is a list of the investors who will form the Breakthrough Energy Coalition:
1) Mukesh Ambani: Chairman and Managing Director, Reliance Industries Limited
2) Jeff Bezos: Founder and CEO, Amazon
3) Richard Branson: Founder, Virgin Group
4) Bill Gates: Co-chair, Bill & Melinda Gates Foundation
5) Jack Ma: Executive Chairman, Alibaba Group
6) Masayoshi Son: Founder, Chairman and CEO, SoftBank Group Corp
7) Mark Zuckerberg and Dr. Priscilla Chan: Founder, Chairman and CEO, Facebook; Pediatrician and CEO, The Primary School
8) Ratan Tata: Tata Group chairman emeritus
9) John Arnold: Co-chair, Laura and John Arnold Foundation
10) Marc Benioff: Founder, Chairman and CEO, Salesforce.com
11) HRH Prince Alwaleed bin Talal: Chairman of the Board of Trustees, Alwaleed Philanthropies
12) Ray Dalio: Founder, Bridgewater Associates
113) Aliko Dangote: Founder and Chief Executive, Dangote Group
14) John Doerr: General Partner, Kleiner Perkins Caufield & Byers
15) Reid Hoffman: Founder, LinkedIn and Partner, Greylock
16) Chris Hohn: Founder, The Children's Investment Fund
17) Vinod Khosla: Founder, Khosla Ventures
18) Patrice Motsepe: Founder and Executive Chairman, African Rainbow Minerals (ARM)
19) Xavier Niel: Founder, Iliad Group
20) Hasso Plattner: Co-founder and Chairman, SAP
21) Julian Robertson: Founder and Chairman, Tiger Management
22) Neil Shen: Founding Managing Partner, Sequoia Capital China
23) Nat Simons and Laura Baxter-Simons: Co-founders, Prelude Ventures
24) George Soros: Chairman, Soros Fund Management LLC
25) Tom Steyer: Businessman, Philanthropist, and President, NextGen Climate
26) Meg Whitman: CEO, Hewlett Packard Enterprise
27) Ms. Zhang Xin and Mr. Pan Shiyi: Co-founder and CEO, SOHO China; Chairman, SOHO China
28) University of California: Office of the Chief Investment Officer