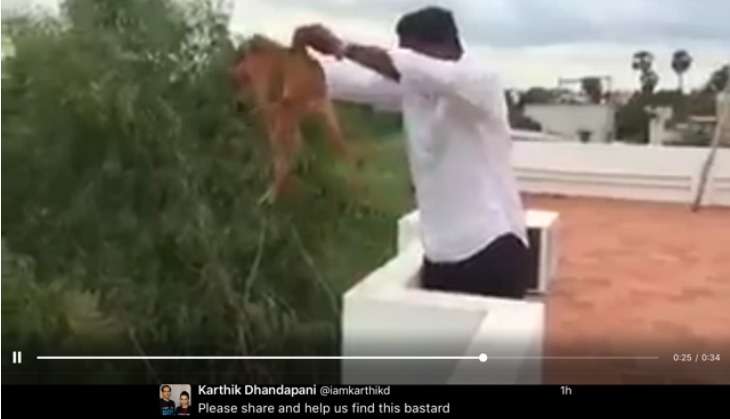 Humanitarians outraged by a recent viral video that showed a man throwing a dog off the roof of a building in Chennai have identified him via social media.
The man in the video was identified as Gautam Sudarshan, a medical student at Kundrathur in Kancheepuram district. He and his friend Ashish Paul, who recorded the video, are absconding. According to the Hindustan Times, the police have apparently contacted the parents of the two men, asking them to tell their sons to surrender. When they do, they will be booked under the Prevention of Cruelty to Animals Act.
Shravan Krishnan, an animal welfare activist, said: "We got information from different students who recognised the student from the video that went viral. It was because of this information that we could lead the police to the right college."
Though the video went viral only a few days ago, the incident took place two weeks ago.
As it was shared on social media, animal rights activists demanded justice and even offered rewards to anyone who could find the culprits.
Sally Kannan, outreach consultant at Humane Society International, wrote on Facebook: "Humane Society International/India is offering a reward of Rs 100,000 to anyone who is willing to volunteer valid information leading to the arrest and conviction of the person responsible for this evil."
The dog, earlier thought to have died on impact, was found on Tuesday with a broken leg and has been taken for treatment.