Pop sensation Justin Bieber might have to be extra careful the next time he chooses a subject to pose for shutterbugs.
The singer, who "doesn't do too well with apologies", might have to say sorry to animal lovers after he was slammed by the animal rights NGO, PETA, for posing with a chained Royal Bengal Tiger at his father Jeremy's engagement party.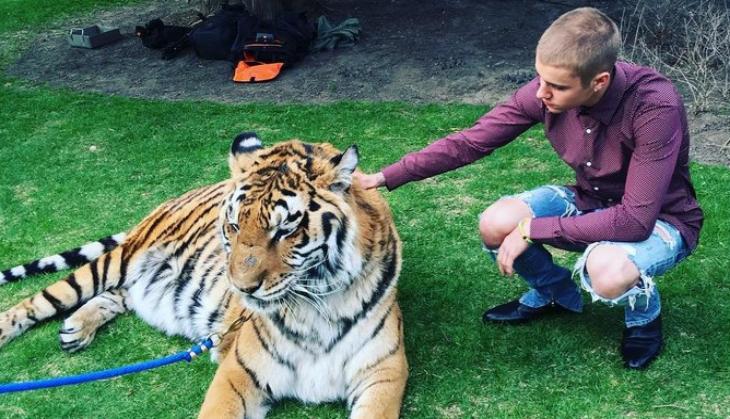 Photo: Instagram
It seemed that the singer's 40-year-old father, who invited superheroes, an opera singer, and a boxer to the event, went a little overboard by flaunting the wild cat at the celebration.
The Bowmanville Zoo - from where the tiger was borrowed - is owned by Michael Hackenberger, who was recently charged with five counts of animal cruelty following PETA's exposure of him whipping a young tiger during a so-called training session. There is also footage of Hackenberger bragging about his 'heroic' act.
According to PETA, Hackenberger has worked with Hollywood before, supplying tigers for The Life of Pi and The Interview.
In a statement issued on last week, PETA wrote:
Exotic animals used for entertainment are usually torn away from their mothers at a young age, beaten into submission by trainers, and forced to live in cramped enclosures. They may even be fed sedatives so that they're docile during events and parties like the one Justin attended. Tigers used in this way are denied everything that they need to be happy, and we can only imagine that the tiger Justin posed with has experienced a life of misery. Justin and other guests are lucky that they weren't attacked by the wild animals. In similar situations, animals have been known to lash out because of the stress of their miserable lives.
We're calling on Justin and his family never to use animals as selfie props or party entertainment again.
Justin has yet to comment on the issue.
Not the first time
This is not the first time Bieber has landed in trouble with animal rights groups. In 2013, German customs officials confiscated his pet monkey, OG Mally.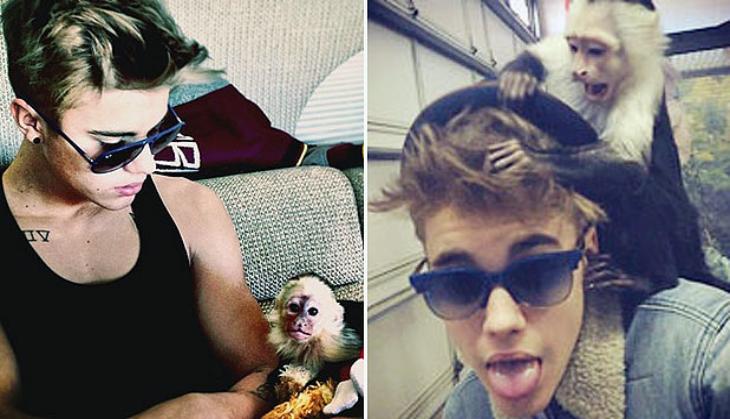 File Photo
Earlier this year, the singer announced his desire to adopt another monkey - a move that was was branded 'foolish' and 'irresponsible' by the North American Primate Sanctuary Alliance (NAPSA).
In a statement, the NAPSA said: "Please do not repeat this foolish endeavor. It is simply not possible to fulfill the unique needs of your monkey within a private home".
Other celebrities like Kim Kardashin, Lady Gaga, Beyonce and the late Micheal Jackson have also been criticised by animal rights groups for alleged insensitivity towards animals.