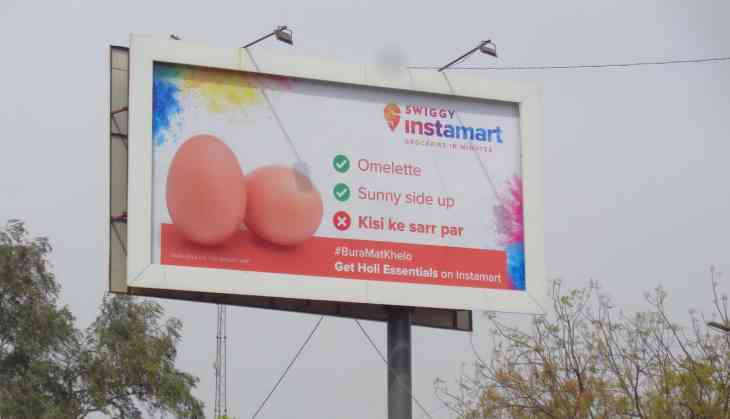 Swiggy has sparked a new controversy while promoting its new service, Instamart, ahead of Holi. The online food ordering and delivery platform's new advertisement has outraged netizens, who have deemed it 'Hinduphobic'.
In the ad, Swiggy humorously requests people to use eggs to make omelets and avoid pelting them on anyone's head during the Holi festival. Eggs can be seen with a green tick on the omelette options and a red cross on 'Kisi Ke Sarr Par Nahi,' accompanied by the hashtag #Buarmatkhelo.
This advertisement has angered Twitter users, who claim that the platform has hurt Hindu sentiments.
They have expressed their outrage on Twitter using the hashtag #Hinduphobic, which has started trending with people calling for a boycott of Swiggy's services.
However, some came in support of the online food delivery service and said they will use the Instamart to order essentials during Holi.
Here are some tweets.
Holi is a beautiful festival that deserves to be celebrated, not denigrated. @Swiggy must remove the offensive Reel, Billboard Ad and issue a sincere apology, never saw such ad during EID ,Christmas BKL #HinduPhobicSwiggy pic.twitter.com/jNdCZ2TpHQ

— 🥀 (@Keshu__12) March 7, 2023
Swiggy:
1. On Christmas
2. On Eid
3. On Holi#HinduphobicSwiggy pic.twitter.com/4z6EAZpAbY

— Anshul Saxena (@AskAnshul) March 7, 2023
Holi Reel & Billboard of @Swiggy is disrespectful towards a festival celebrated by millions
Why no such gyan on other non-Hindu festivals?
Swiggy must apologise to Hindus for its intentional mistake #HinduPhobicSwiggy pic.twitter.com/mxfLcHBCSC

— Ramesh Solanki🇮🇳 (@Rajput_Ramesh) March 7, 2023
Retweet And Boycott #HinduPhobicSwiggy pic.twitter.com/Qp3pWxlzRL

— Harish Sharma (@Sharmaharishji) March 7, 2023
Holi ads by @Swiggy are hurtful and divisive. Who gave them permission to create a negative perception about my festival? Company must Apologize and take corrective steps to promote inclusivity. #HinduPhobicSwiggy pic.twitter.com/G9W6ygZpuW

— Vikash Ahir 🇮🇳 (@team_hyv) March 7, 2023
Holi is a joyous festival that should be celebrated, not mocked. @Swiggy should remove the offensive billboard/reel and apologize to the whole Hindu community. #HinduPhobicSwiggy pic.twitter.com/hvE2e0Zm3b

— TheUnitedHindu (@TheUnitedHindu9) March 7, 2023