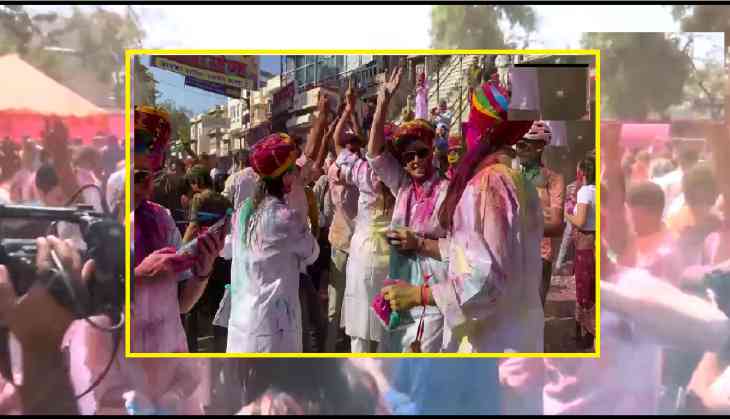 With a dash of colors in the air and loud music, foreign tourists celebrated Holi with the residents of Rajasthan's Jaipur on March 7. The foreign tourists were seen taking on the 'Desi' avatar and throwing gulal at each other with enthusiasm.
Locals also joined in and danced along with the foreign guests. Jaipur is quite popular among foreign tourists and is one of the most famous tourist destinations.
Watch here.
#WATCH | Rajasthan: Foreign tourists, along with locals, play with colours in Jaipur as they celebrate the festival of #Holi. The event has been organised by the State Govt's Tourism Dept. pic.twitter.com/fs3LLBZE1o

— ANI MP/CG/Rajasthan (@ANI_MP_CG_RJ) March 7, 2023
Jaipur city is quite popular among the foreign tourists and is one of the famous tourist destinations. The event was organised by the Rajasthan Government's Tourism Department.
Meanwhile, locals and foreigners celebrated Holi with lot of pomp and show in Udaipur.
Rajasthan | People celebrate the festival of colours, Holi, in Udaipur pic.twitter.com/iuuWhuvjuK

— ANI MP/CG/Rajasthan (@ANI_MP_CG_RJ) March 7, 2023
Holi is a festival of colours and is celebrated as a sign of victory of good over evil. It is a lively and joyful occasion that brings people together.
This year the festival of colours will be celebrated on March 8 and the celebrations will start today evening with the Holika Dahan. Here are the Mahurat and timings of Holika Dahan.
Holika Dahan 2023 Timing:
Holi Date: Wednesday, March 8, 2023
Holika Dahan: March 7, 2023
Purnima Tithi Begins - 04:17 PM on Mar 06, 2023
Purnima Tithi Ends - 06:09 PM on Mar 07, 2023
Also Read: Mesmerising: Watch devotees, priests play Holi with Mahakal during Bhasma Aarti