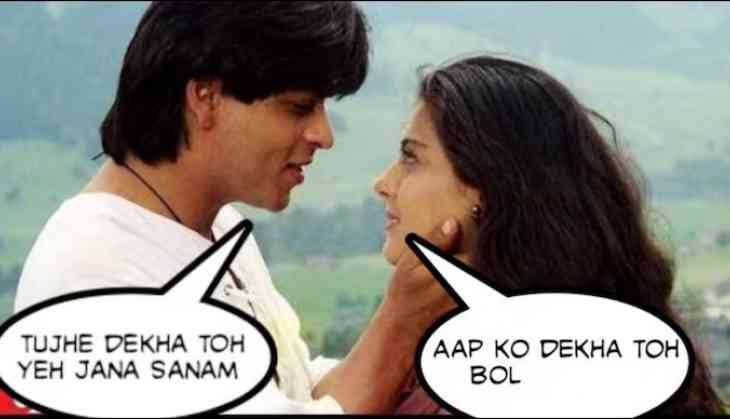 A woman's tweet has sparked a debate about the manner in which people in Mumbai address strangers in Hindi. Instead of taking the issue seriously, the debate took a humorous turn.
It all started with a tweet when a woman shared that Mumbaikars are quite rude when it comes to interacting with strangers in Hindi, specifically regarding the use of the word 'Tu.'.
The debate initially centered around linguistic differences but was transformed into a more lighthearted discussion due to the efforts of meme creators.
A Twitter user named @PratPranc commented that using the informal pronoun 'Tu' when addressing a stranger is considered disrespectful in social conduct. This prompted Mumbai residents to flood the comments section, explaining that in Marathi, 'Tu' is equivalent to 'Tum.'
When the debate was about to get serious, some Twitter users have come up with hilarious jokes and memes by replacing 'Tu' with 'Aap' in Bollywood songs.
Take a look.
north indians when atif aslam sings tu jaane na instead of aap jaane na pic.twitter.com/PEzJAL6O0c

— gordon (@gordonramashray) February 7, 2023
Ye kaali kaali ankhen
Aap ru ru
Aap ru ru

— Rueben Kaduskar (@rararueben) February 8, 2023
Mumbai Boi
Delhi Gurl pic.twitter.com/ckbGfVZI9m

— Ritushree 🌈 (@QueerNaari) February 7, 2023
Jaane Aap Ya Jaane Naa 🥰

— Pulkit Kochar (@kocharpulkit) February 7, 2023
People who are having a discussion on Tu & Aap matter haven't discovered this Teko Meko thing. 😭😂

— Godman Chikna (@Madan_Chikna) February 8, 2023
This 'Tu' vs 'Aap' discourse on Twitter. pic.twitter.com/5XRg2gRjRp

— tulsi das khan (@IndieKnopfler) February 7, 2023
Replace Aap with Tu for life and delete Tum forever.

— A (@PureNautanki) February 8, 2023
There is a tum. It's tu and tum. Aap is different please

— Upasana (@U_pasana) February 8, 2023
muting "tu" and "aap"

— G. (@wtfgauravvvv) February 8, 2023
Someone sings, "Tu tu tu tu tu tara"
Delhiites: pic.twitter.com/SpyQFtiNeB

— Sreeram Ramachandran (@ticktockthought) February 7, 2023
Here's what PratPranc tweeted on February 5. "Never engage with Bombay people in Hindi. You could be complete strangers and they'll still feel free to address you with a 'Tu'. Unacceptable behaviou,"
"The same Marathi speaking crowd will use 'tu' for their mothers & grandmothers but they dare not use 'tu' for their fathers, grandfathers or any other male figure w authority. Patriarchy FTW!" she added.