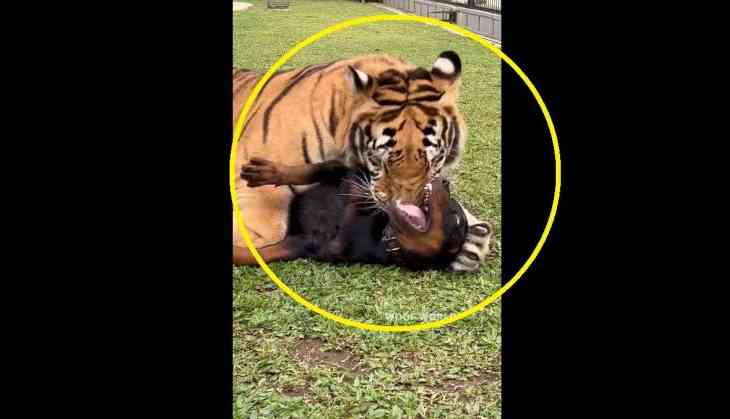 Tigers are among the most ferocious and brutal predators in nature. These fearless animals are capable of killing any creature that stands in their way. However, these big cats also have a soft side, as shown in this viral video.
In the clip, a full-grown tiger can be seen playing with a Rottweiler dog. While playing, the big cat grabs the neck of the rottweiler but instead of biting or killing the dog, it starts licking it. However, the dog gets nervous when the tiger flips it and grabs its neck.
Watch Here.
best friends...😂 pic.twitter.com/98qOWZI9c2

— The Woof World (@TheWoofWorld) March 17, 2023
It seems like both the animals are besties and were raised together. The background of the clip also shows enclosures which also tell us that the video was shot at some zoo.
The 13-second-clip was shared by a Twitter account named @The Woof World with the caption, "best friends...".
Since being shared, the clip has racked up over 4.6 million views and more than 69,100 likes.
It is worth noting that, raising big cats with dogs is very common at zoos and specialty programs. It helps socialize the cat and reduce their anxiety.
Aldo Watch; TERRIFYING! Why lady scuba diver suddenly changes plan after spotting something underwater? [WATCH]