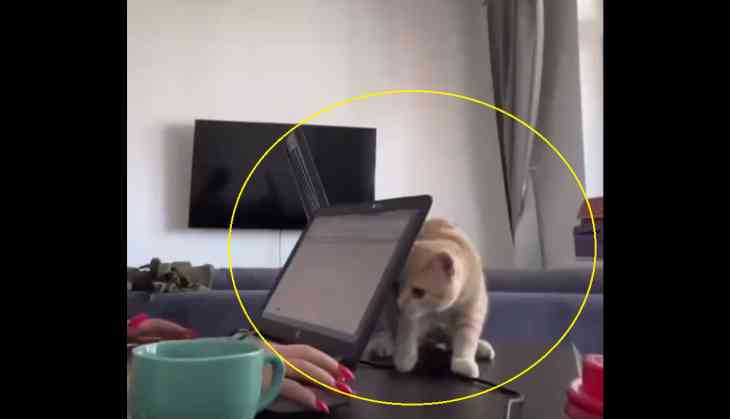 The Work From Home concept has become very famous after the coronavirus outbreak. Now, most employees want a workplace where they can get the option of WFH or hybrid work. The concept is good for employees, but for their pets, it's a puzzling one as their owners behave strangely during their working hours.
In a similar situation, a cat wants to play with her 'hooman', but the owner is busy working on her laptop.
The clip shows that the cat wants to play with her owner, but she refuses as she is working from home. To persuade the owner to play, the furry feline starts annoying her with funny antics. It can be seen hiding behind the laptop screen, pushing the laptop with her body weight, and slapping or grabbing the owner's hand with its little paws.
Watch here.
Bon dia! 💕😽
10 de març, divendres 😸 pic.twitter.com/dAMeRcs3BM

— m. vilà (@mitrebcn) March 9, 2023
People who have pets can relate that these furry angels will do anything to grab their owner's attention.
In a similar video, a parrot can be seen trying to get attention of its owner by doing some unusual antics. The clip shows that the feathery bird continuously hopping on a desk to grab its owner's attention. The funny background sound and the parrot's antics are sure to make your day.
watch here.
Happy bird.. 😅 pic.twitter.com/3GN2s1wEhC

— Buitengebieden (@buitengebieden) March 9, 2023
So what are your thoughts about the funny video?
Also Read: Viral Video: Internet just finds out its real life 'kung-fu Panda'