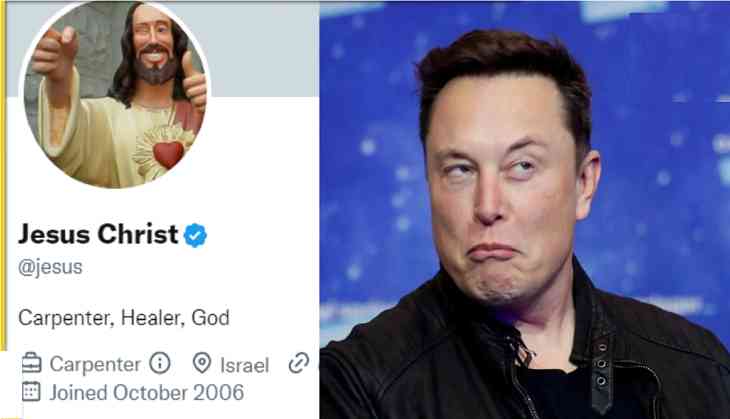 Christ has got verified on Twitter
Amid the ongoing debate over whether charging USD 8 for a verified Twitter account is right or wrong, a number of fake accounts have spiked on the microblogging platform.
From a verified fake account of Donald Trump to a 'blue badged' fake account of American basketball player Lebron James, some internet users are misusing the new Twitter feature to impersonate others.
The most intriguing fake account that has piqued everyone's interest is Jesus Christ; yes, you read that correctly, the Lord is on Twitter, and with a verified badge.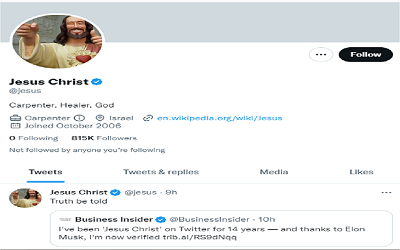 Twitter has given a blue tick to an account with the name -Jesus Christ. That might shed some light on the ongoing chaos on Twitter.
Ever since Elon Musk took over Twitter and announced a fee for a verified Twitter account to churn out profit from the micro-blogging site, a debate has started about how easy it would be to impersonate someone on Twitter.
The 'verified' Jesus Christ Twitter account responded to the news of receiving a blue badge by asking, 'Why the assumption I am fake?'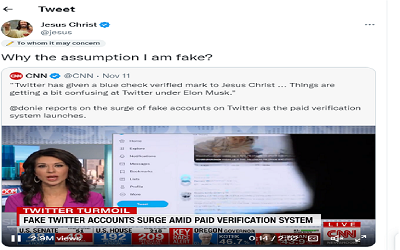 The post soon got viral, prompting Twitter users to write hilarious comments.
A Twitter user wrote, "Please make me your only follower, Jesus . I carried you down the beach that one time.'
Another wrote, "This is a completely real Twitter account? I don't see the problem."
A Twitter user asked, "I want to know the credit company that gave you the card! I want it."
A user took a jibe at Elon Musk's new paid verification feature by saying, "I'm still waiting for Santa to come on Twitter.....I just KNOW he's real!"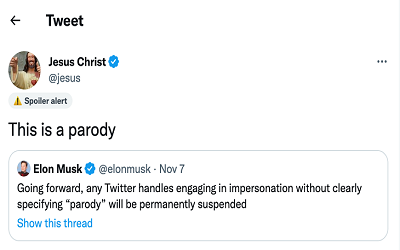 Taking the matter into his hands Elon Musk tweeted that any account trying to impersonate someone else would be disabled unless they declare it's a parody account.
The account claiming to be Jesus Christ responded to Musk's tweet by announcing that it's a parody account.