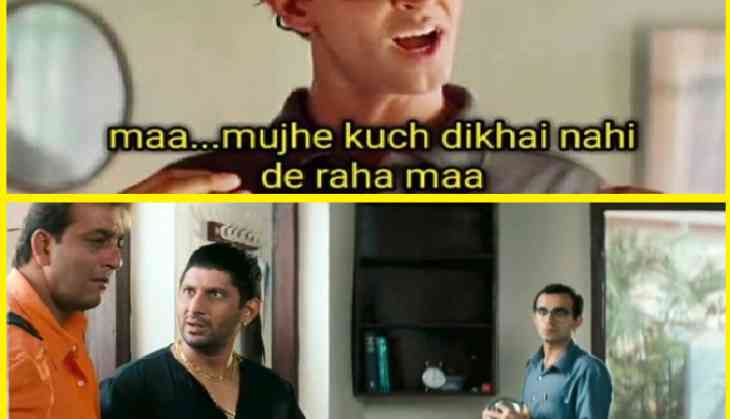 Disney+ Hotstar down during India vs Australia match
India is a country where people take cricket more seriously than their jobs. It's a place where an unannounced holiday is observed during the World Cup, and where every child has a bat and ball. Yes, cricket is a serious business in our country. Now, imagine what would happen if the television went blank during a high-voltage match.
Well, something like that happened today during the second Test of the ongoing Border-Gavaskar Trophy.
The video streaming platform Disney+ Hotstar went down for a period of time during the high-voltage match, prompting people to express their anguish on Twitter. The service outage started at around 12 pm, and people shared pictures of their blank television screens on Twitter.
However, the serious situation took a lighter turn when "meme makers" flooded Twitter with hilarious memes about the outage. From using the famous Hera Pheri template to portraying how other streaming platforms benefited from the outage, people had a lot to say.
Here are some of the best memes we came across:
People running to Twitter to check hotstar down problem be like#hotstar pic.twitter.com/EaPahBmW3u

— Anjali (@Anjali_14_) February 17, 2023
People running to Twitter to check hotstar down problem be like#hotstar pic.twitter.com/kZZ7YWaWEk

— ︎︎ ︎︎ ︎︎ ︎︎ ︎︎ ︎︎ (@boringlifebc) February 17, 2023
Anyone else facing the same issue with #hotstar?#INDvsAUS pic.twitter.com/cowg6x0tu2

— Harsh Pandey (@iam_the4th) February 17, 2023
Number of viewers watching Border-Gavaskar trophy on #hotstar right now. pic.twitter.com/EhFY5KqYQQ

— Krishna (@Atheist_Krishna) February 17, 2023
Only #JioTV standing while all are falling deep 😁#Hotstar pic.twitter.com/32cXJQFL6a

— Tanisha Sarania (@TanishaSarania) February 17, 2023
#Hotstar not working.

POV: Subscribers be like:- pic.twitter.com/kThGELEZ3D

— 🅹🅾🆈🅰 🅺🅷🅰🅽 (@joyakhan_joya) February 17, 2023
#Hotstar not working.

POV: Subscribers be like:- pic.twitter.com/kThGELEZ3D

— 🅹🅾🆈🅰 🅺🅷🅰🅽 (@joyakhan_joya) February 17, 2023
Meanwhile me after paying Yearly subscription #hotstar 😡😡 pic.twitter.com/Q00ZH6Shnl

— lydiaapynz✡♏☮⚕☦✝ (@ludiaapynz) February 17, 2023
Thanks to Jio Tv cricket for coming to the rescue... #hotstar
Hotstar Down pic.twitter.com/9Uzt7wHEHa

— ︎︎ ︎︎ ︎︎ ︎︎ ︎︎ ︎︎ (@boringlifebc) February 17, 2023
Me trying to watch India vs Australia match on Hotstar:
.. pic.twitter.com/T9V2oVoTIj

— Sanat Prabhu (@TheCovertIndian) February 17, 2023
Hotstar, when Australia is batting good against India. #hotstar #CricketTwitter #INDvsAUS pic.twitter.com/8Mmj33EKbl

— Himanshu Pareek (@Sports_Himanshu) February 17, 2023
Disney Hotstar app tech team trying to restore its server so people can watch India v/s Australia test!#hotstar #INDvAUS pic.twitter.com/AhxP9AWZ3n

— Vishal Verma (@VishalVerma_9) February 17, 2023
#Hotstar not working.

POV: Subscribers be like:- pic.twitter.com/7AsgCxWeyl

— Lowinia Arora🇮🇳 💯% (@MADHU70358616) February 17, 2023
#Hotstar to subscribers after server down:-#hotstarserverdown pic.twitter.com/f5iZhKknQQ

— anurag jat (@Anubhaiff) February 17, 2023
Hotstar Premium user rn*#hotstar pic.twitter.com/aLr53sUmQp

— विक्रम 𝘬ꪊꪑꪖ𝘳 🐦🪅 (@_Lune_amour) February 17, 2023
Also Read: Taken too far! Watch restaurant serves pasta in upside down wine glass; internet baffled