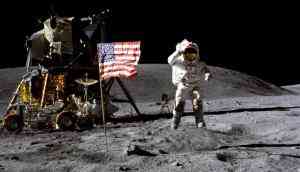 "It's one small step for a man, a giant leap for mankind". These words uttered by astronaut Neil Armstrong have become immortal and a leading light for space exploration around the world. Armstrong was the first man to walk on the moon and more than 50 years following the groundbreaking event, his foot marks are still present on the lunar surface.
As humans start an extensive push to go back to the moon, National Aeronautics and Space Administration (NASA) put out a video that displays the presence of those first footprints left by Apollo 11 astronauts who created history by touching the lunar surface.
The video taken by Nasa's Lunar Reconnaissance Orbiter (LRO) shows the astronauts' tracks, still there after five decades after the historic walk that took place on 20th July 1969.
Here's the video:
It's #InternationalMoonDay! Today marks the anniversary of the Apollo 11 Moon landing – the first time that humans stepped on the surface of another world. This video from the Lunar Reconnaissance Orbiter shows the astronauts' tracks, still there after all this time. pic.twitter.com/LVDkFeEcYP

— NASA Moon (@NASAMoon) July 20, 2022
Besides walking on the lunar surface and collecting samples for research that has been going on even in 2022, the Apollo 11 astronauts left behind a plaque that read "Here men from the planet Earth first set foot upon Moon in July 1969 AD. We come in peace for all mankind."
The US space agency has stated that Armstrong changed the course of history as the commander of the Apollo 11 mission, landing humanity on another celestial body for the first time and attaining President John F. Kennedy's aim of landing humans on the Moon by the end of the decade and returning them safely to Earth.
At present, NASA is making every attempt to return humans to the Moon along with landing the first female and the person of colour on the moon surface. The US space agency has wrapped up the test for the Space Launch System that will take back astronauts to the lunar surface and the first uncrewed mission could take place by the end of 2022.
Also Read: NASA's fear about China's militarization of space not baseless