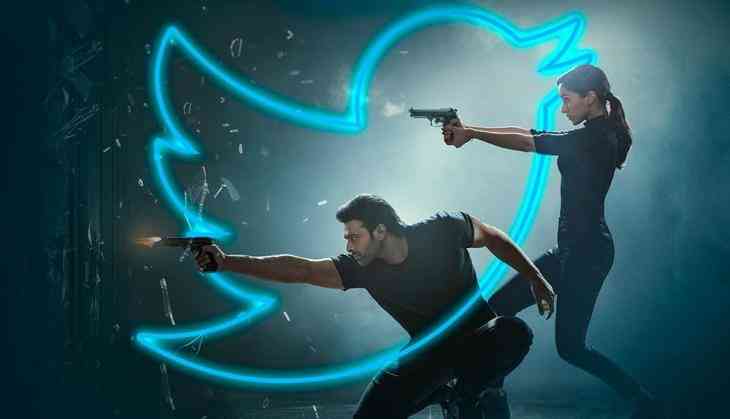 Prabhas and Shradha Kapoor starrer Saaho has released this Friday and the buzz is itself says that it is going to be the most talked-about film of the year. Since the trailer and promos of the film came out fans were quite excited to watch the film. Prabhas has come back to the silver screen after Baahubali 2 and that too in a new avatar.
Many mornings shows are going packed and Housefull and even in some South area the film has got early morning shows as well. Saaho has been making noise for all the right things. The film has released in all five languages - Hindi, Tamil, Telugu, Kannada, and Malayalam. Now the fans who have gone to watch the film in the theaters have started tweeting about the film.
#Saaho starts earth shattering openings every where. Huge celebrations fans shows

Enjoy the twists & turns & visual Extravaganza on silver screens from today .#Prabhas @ShraddhaKapoor @UV_Creations @sujeethsign#SaahoFeverEverywhere #SaahoInCinemas #SaahoMania pic.twitter.com/YYG1N3G5cM

— SKN - World #Saaho Day (@SKNonline) August 30, 2019
Just fire on bro 🔥🔥🔥🔥🔥🔥🔥 #SAAHO @ Los Angeles, California https://t.co/U1V9tx0EFo

— Rana Daggubati (@RanaDaggubati) August 29, 2019
Keeping away the hype and expectations #Saaho is a watchable film with enough twists and turns coupled with terrific action blocks though it goes overboard a bit.Technically a superior product with Prabhas shining in the lead character

— Forum Keralam (FK) (@Forumkeralam1) August 30, 2019
#Saaho Blockbuster First Half just completed!! 😍😍

Never Before in Indian Cinema 🙏

Telugu Cinema is taken to next levelllllllll 😎 pic.twitter.com/9vkVhUV8aD

— Lalettanarmy (@lalettanarmy) August 29, 2019
#Saaho One word!!!

B-L-O-C-K-B-U-S-T-E-R!!! 🎉

Hats off to the 28 year old Sujeeth! 🙏🏻

Best Action Sequences for Indian Screen!

Ghibran BGM, Visuals are breathtaking!

Pacy Screenplay with Twists & Turns brring a few scenes here and there!

Climax 30 min is Goosebumps stuff! pic.twitter.com/iao8A7LjMK

— Vinay Pemmasani (@vinaypemmasani) August 29, 2019
#Saaho 1st Half : Its #Prabhas show all the way.. He dominates the proceedings so far..

Mass interval twist..

Good action sequences so far.. I guess the spectacular ones r reserved for 2nd half.. @ShraddhaKapoor has a good role.. @arunvijayno1 is 👌

2nd half is key!

— Ramesh Bala (@rameshlaus) August 30, 2019
Done watching #Saaho.
Mindblown. Best ever Indian action movie I have ever watched. Top notch action sequences. Interval and pre climax action sequences murder maassssssss. BGM adhiripoindi.#SaahoFeverEverywhere #Saahoreview

— #Saaho (@ChandruTwitz) August 30, 2019
#Saaho is not that bad what they are saying. It has some really good moments and great action. #Prabhas was awesome. The problem is director sujeeth wasn't able to deliver a convincing story.#Saahoreview pic.twitter.com/7v60Ea4fjy

— Cinema Paradiso (@ciinemaparadiso) August 30, 2019
#SaahoReview - Tedious and Tiresome. Too many paperboard characters with unclear characterization and motivation. Confusing screenplay is marred by relentless action sequences. Prabhas' presence lacks the spark. pic.twitter.com/ZNDNa39VoO

— MovieCrow (@MovieCrow) August 30, 2019
Directed by Sujeeth, Saaho is a story of a cop who goes on a mission to capture a thief who held India's biggest robbery. Besides Shraddha and Prabhas, the film also stars Jackie Shroff, Neil Nitin Mukesh, Chunky Panday, Mahesh Manjrekar in the leading roles.
Also Read - Saaho story leaked! Prabhas is hero and villain both in Sujeeth's film