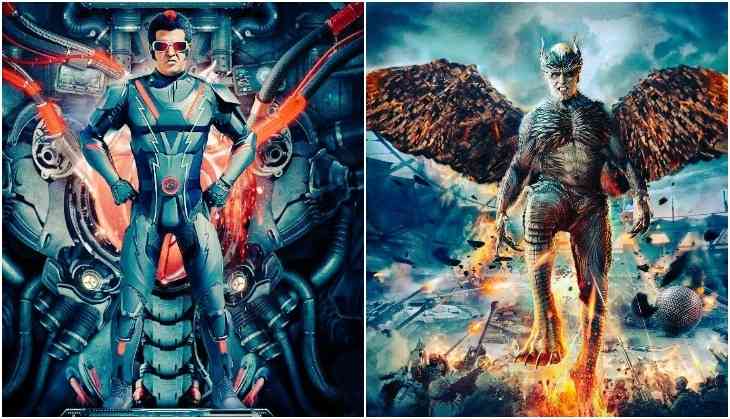 South superstar Rajinikanth is no less than a god for the fans of the Tamil films and even the whole south film industry believes him the superman of the South cinema. Whenever his films hit the screens and it turns out like a festival for the fans. Now today it becomes more special as the biggest film of Rajinikanth, 2.0 releases today.
The film is the sequel of his one of the biggest film Robot that release in 2010 and now after 8 years, he has come up with the sequel. The film becomes more interesting as it brings Bollywood superstar Akshay Kumar in the Tamil film industry. Actually, Akshay Kumar makes his Tamil debut with 2.0 film. This time Akshay Kumar plays the role of antagonist whether Rajinikanth is in the role of protagonist.
The movie has been paused for 3 minutes. Thalaiva's first look in the movie is being celebrated in style😁 #2Point0 #2Point0Release #2Point0FDFS #2Point0Fromtoday @TheQuint pic.twitter.com/FqE65cuHq0

— Bilal Jaleel (@baelal23) November 29, 2018
For the love of a man!#Thalaivar #Rajinikanth#2Point0 #2Point0FDFS
Mumbai 5 am.. pic.twitter.com/2KEVV265h1

— NATHAN version 2.0 🤖 (@ShaSherNat1610) November 29, 2018
#2Point0FDFS@RohiniSilverScr

1st show finish😍😍 pic.twitter.com/wINIuZLdKy

— SARKAR (@Thalapathyvij1) November 29, 2018
Positive Reviews Everywhere... 🔥🔥🔥😍😍😍#2Point0 #2Point0Review #2Point0FromToday #Rajinikanth pic.twitter.com/VTNbPn4ZHv

— RAJINIsm 2.0 ™ (@RAJINIism) November 29, 2018
#2Point0FromToday must watch movie in 3D proud movie of india it's a Hollywood movie . Plz do watch in theater in 3D pic.twitter.com/86PFYXi42D

— Vijay (@Vijayshash) November 29, 2018
#2Point0FDFS
Positive Reviews Roaring Everywhere !!

Biggest Blockbuster of the Decade !!#2Point0FDFS #2Point0 #2Point0FromNov29 #2Point0FromToday pic.twitter.com/yWdNRdFn02

— ONLINE RAJINI FC 2.0 (@thalaivar1994) November 29, 2018
Now with the release of the film, there is going to be huge numbers of screening all over the world. The film has released on more than 10000 screens and with more than 30000 shows will run a single day. The film has made on the high budget of 560 crores and makers expect much more at the box office.
Meanwhile, the Thalaivar fans have already started promotions and worship of Rajinikanth. Even some of the fans have given milk bath to the posters and statues of Rajinikanth. Well, now we have to see how will this film of Akshay Kumar and Rajinikanth perform at the box office?
Also Read - Sara Ali Khan on brothers Taimur and Ibrahim: 'Both are bundles of cuteness and equally naughty'