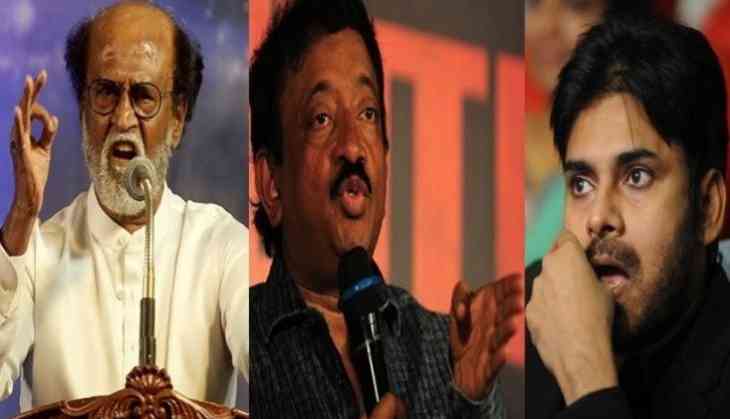 Pic: Rajinikanth, Ram Gopal Varma, Pawan Kalyan
The controversial film director Ram Gopal Varma is back on Twitter. And as expected, he started his Twitter comeback by appreciating Rajinikanth's political entry and his decision to contest all seats in Tamil Nadu. However, soon after congratulating Thalaiva, RGV made a series of tweets and challenged Telugu superstar and Jana Sena Chief Pawan Kalyan to contest all seats in Andhra Pradesh.
Check out the statements tweeted by Ram Gopal Varma on his Twitter page:
Here's my Jesus like rejuvenated second coming on Twitter ..Wish u all as happy a new year as every other bygone Happy Old Year
Never seen more thundering power than in @superstarrajini the way he announced his political entry ..My prediction is each and everyone in entire TN will vote only for him..it will be dumb of any political party to contest against him
Greatest line said by @superstarrajini is "Because of some people Tamilians have lost their prestige and I,Rajini,will bring it back"
I wish @PawanKalyan will contest all seats in AP like @superstarrajini doing in TN ..if he doesn't do,PK's fans will feel he doesn't have guts like Rajinikanth ..it will be an insult to telugu people's prestige if our Superstar has lesser guts than the Superstar of Tamil people.
If @PawanKalyan doesn't with guts contest in each and every seat of AP, both his fans and all telugu people will feel he's just a very ordinary star and not a SUPERSTAR like @superstarrajini of the Tamil people.