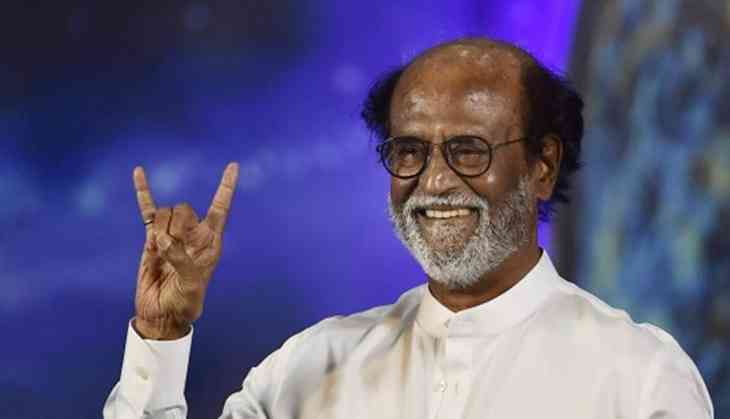 Rajinikanth fans trend #RAJINIVoiceForGoodCause
Rajinikanth is heating the headlines ever since he dropped the video on his Twitter handle in wake to urge the people to participate in Janta Curfew. However soon the video was taken by the social media App as they said it is misinforming people about COVID-19 and also violated the rights.
As soon as Twitter India took down the video Rajinikanth fans came out in his support and starter trending "#RAJINIVoiceForGoodCause". As per the fans Twitter misunderstood superstar's message he didn't say virus will be destroyed within 12-14 hours rather he said that we can avoid our country to reach the third stage.
In between the tweets they have also posted the video that Twitter took down and demanded an explanation as to what rules he is violating in the video.
Also Read: Kanika Kapoor Coronavirus Controversy: Netizens slam Rishi Kapoor after he takes dig at singer on Twitter
Here, check out the series of tweets by Rajinikanth's fans:
Rajinikanth didn't say virus will be destroyed within 12-14 hours. He clearly said we could avoid a "Stage 3 situation." Its about not worsening the intensity of virus spread.

We demand an explanation @TwitterIndia. #ShameonTwitterIndia #RAJINIVoiceForGoodCause

— Ian Malcolm (@MrIanMalcolm) March 21, 2020
#ShameOnTwitterIndia for removing India's biggest Superstar @rajinikanth 's video message about Corona !!#RAJINIVoiceForGoodCause pic.twitter.com/ridpQYPH8i

— kumaravel,என் தலைவன் ரஜினி! RMM member (@kumarwinn) March 21, 2020
. @TwitterIndia We seek a strong explanation on how this violates your polices, You can't just like that take this off without a proper statement explaining what was offensive with this update or request. #RAJINIVoiceForGoodCause #COVID19outbreak #IndiaFightCorona pic.twitter.com/r35IMNlGK3

— Rohit Venkatraman (@RohitvNiranjan) March 21, 2020
#ShameonTwitterIndia#RAJINIVoiceForGoodCause#ISupportJanataCurfew@TwitterIndia

One thing is clear. There is a lot of fear here that the future of the DMK will be doomed, rather than corona's.

Fans will not complain against Rajini's post. Then, who will do this? exactly DMK. pic.twitter.com/EMjo0naNVy

— Kumaran (@Kumaran_Honest) March 21, 2020
#ShameonTwitterIndia we demand explanation and apology. 😡😡😡😡😡😡😡😡😡😡😡😡😡😡😡😡#RAJINIVoiceForGoodCause pic.twitter.com/hnXBDniK7U

— praveen (@mickpraveen) March 22, 2020
What Thalaivar said in that video its all about good for the people !!

But don't know why @TwitterIndia has deleted it !! They have to answer for that 👊#RAJINIVoiceForGoodCause #ShameonTwitterIndia#StaySafeStayHome pic.twitter.com/KXGtGnfQGM

— Rajinist Forever :) (@RajinistForever) March 21, 2020

Those who don't know then let us tell you Rajinikanth posted a video where he requested the citizens to remain indoors and observe Janta Curfew. He also said that what happened in Italy should not happen here so to prevent it it's important we follow the government's norms. [Read the full story here]
Meanwhile, actor's television debut on Into The Wild with Bear Grylls will go on air on Monday on Discovery in India while his upcoming film Annaatthe has been put on hold following the shutdown of all film and TV production.
Also Read: Khatron Ke Khiladi 10: Tejasswi Prakash to make her debut under Rohit Shetty's production