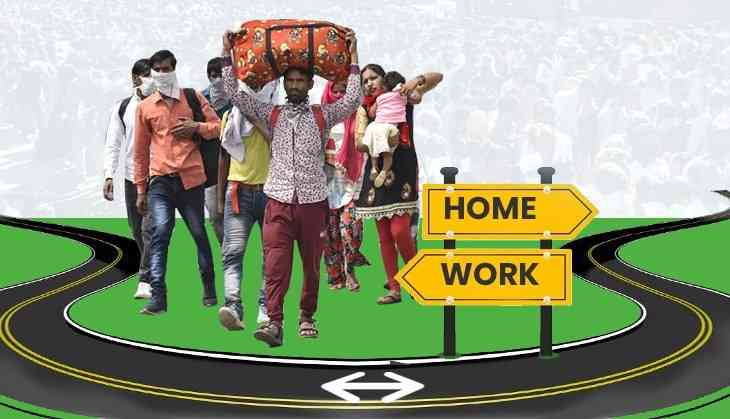 India can't remain in lockdown forever, and the economic activity can't happen on its own--workforce must be able to move to the production site. But when there is so much fear around due to coronavirus (COVID-19) and lockdown, migrant workers don't know what is going to happen in the near future.
Left with no job, no money, no food, no shelter, many migrant labourers at the low rung of labour force want to go back to their native place.
Give them a choice
The lockdown restrictions are increasingly being lifted, resumption of limited train services by Indian Railways is happening, and authorities are making efforts to communicate to the workforce that production in factories is going to pick up soon. Now, there is a possibility that migrant workers decide not to go back to native place. After all, they moved out for work as there is no suitable work at home. If they can earn again, then staying where they are at present makes a lot more sense.
However, this confidence can come only when migrant labourers have a choice--to board a train or bus and go back home. If they don't have a choice, fear leaps in, and the thought of being stranded without food or money makes them think of going back home in despair.
Work beckons
As being witnessed in Haryana, many labourers have shown interest to come back to the state if they get work and assurance that they will not be left in the lurch if things go awry again.
Wheel of the economy needs force to move
Without workers, no production can take place which is forcing industry leaders to come out and offer transport facility to arrange for workers to come back to the workplace.
Learn to live with coronavirus
It goes without saying that social distancing norms and all other precautions should be put in place to protect workers from catching and spreading coronavirus. Yes, COVID-19 cases are likely to go up when economic activities start at a fast pace, but we can take effective steps to minimise the spread of the virus and at the same time keep the engine of economy running.
Life and livelihood must go together now. We don't have a choice.
Also Read: Migrant workers walking to go back to home state UP from Pune: 'We have no food, no money'