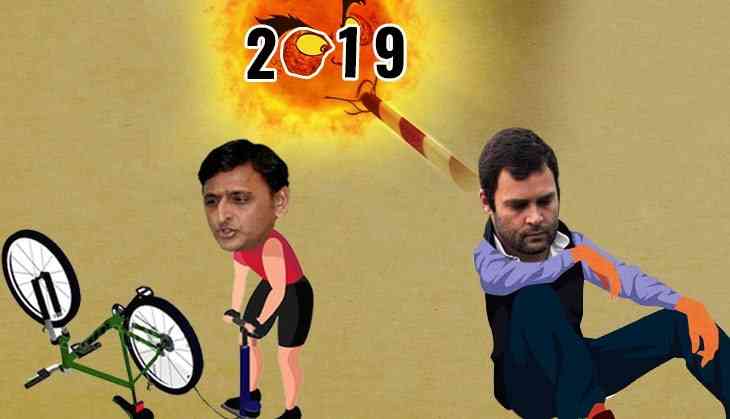 After Lok Sabha Polls debacle—Samajwadi Party won only five seats—SP chief Akhilesh Yadav has to live with another major embarrassment: Bahujan Samaj Party chief Mayawati deciding to contest alone in all 11 seats in the upcoming Assembly bypolls. However, Akhilesh has put up a brave face and gracefully accepts that his political experiment simply failed. Instead of looking for excuses, he has decided to move on. Rahul Gandhi should learn from Akhilesh and be open to criticism, learn from it and march ahead.
No blame game
After Congress party's drubbing in the Lok Sabha Polls 2019, Rahul Gandhi has blamed some senior leaders of the party who allegedly gave priority to their family members in the selection of the candidates. But, as the Congress president who wields immense clout, Rahul should have managed it and put things in order. He failed to resolve the issue and this doesn't reflect well on his leadership and management capabilities.
In contrast, Akhilesh owns up to his failures, talks to party members and assures cadre to keep the faith and keep fighting. He has desisted from giving any statement that could fuel in-fighting in the party or upset the 'possible-allies' in his fight to form a bigger coalition to challenge BJP.
Go against the winds
Though Mayawati's move to go alone in Uttar Pradesh—she claims this may not be permanent—is a major setback to Akhilesh's reputation, he responds by saying: We will contest bypoll on all 11 seats after consulting party leaders soon. Even if our paths are different, we welcome it". SP patriarch Mulayam Singh Yadav has never minced his words against SP-BSP alliance, Yadav vote bank stands divided because of the family feud, and SP workers must be confused because of the latest developments. Akhilesh has a tough fight ahead but he is willing to confront the challenge and determined to juggle with his political options.
Don't lose sight of the goal
Akhilesh formed an alliance with Mayawati with a larger aim to keep BJP out of power. He is fully aware that it would be very difficult to trounce BJP unless a united front is formed. So, he is not giving any statement that could hamper the formation of such a coalition in future. Akhilesh was willing to give BSP an advantage in seat sharing, ready to compromise with allies and even now not ruling out combined assault to put BJP on the backfoot. In tough situations, Rahul clearly faltered to take important decisions: failure to join SP-BSP alliance in UP, delay in deciding not to enter into an alliance with AAP in Delhi, and not making serious efforts to challenge BJP as a combined Opposition against Prime Minister Narendra Modi.
Rahul Gandhi and Akhilesh Yadav—young Turks of Congress and SP respectively—who came to be known as UP ke ladke during UP Assembly Elections 2017, need to fight a battle for survival. Their previous 'political startups' have failed but they can always learn from their mistakes. Rahul can learn a lot from Akhilesh, but this requires a reality check on part of Rahul Gandhi.