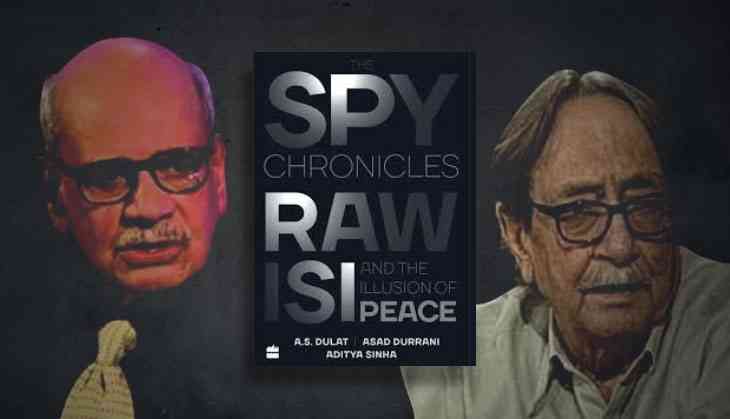 (Arya Sharma / Catch News)
The formal release last week of an unusual book, Spy Chronicles: RAW, ISI and the Illusion of Peace, became an occasion for the bashing of Prime Minister Narendra Modi's Pakistan policy and approaches in Jammu and Kashmir.
Among others former Vice-President Hamid Ansari, former Prime Minister Manmohan Singh, former External Affairs and Finance Minister and now fierce Modi critic, Yashwant Sinha and former J&K Chief Minister Farooq Abdullah released the book.
These leaders' presence denoted their approval of the book's idealistic message of continuous India-Pakistan engagement to build peace and avoid muscular postures by India. So, what is it about Spy Chronicles, which attracted Modi detractors to a common platform the day the Janata Dal (Secular) and Congress-led Karnataka government took oath?
Spy Chronicles records wide-ranging conversations over a period of a year and a half between Lietenant-General Asad Durrani and AS Dulat who were heads of Pakistan's Inter-Servies Intelligence (ISI) and India's Research and Analysis (RAW), respectively, although in different periods.
Prior to taking over as ISI chief, Durrani, a career military man, led Pakistan Army's Military Intelligence branch. The ISI head is always an army officer; hence, Durrani's appointment was not extraordinary.
On the other hand, Dulat's was. He spent his professional life in the Intelligence Bureau, which is concerned with India's internal intelligence. So, his move to RAW was unprecedented. Dulat spent a long time in IB in handling Kashmir affairs. That has obviously coloured his perspectives on foreign affairs, especially, Pakistan and India's western neighbourhood.
Durrani reveals some attitudes that are a product of deeply held beliefs of the Pakistan Army, including contempt for many political leaders, especially Nawaz Sharif. He also asserts that it is the military that holds Pakistan together.
Thus, on Pakistan's domestic affairs he largely abides by the standard postures of the army but is critical of the establishment's handling of specific issues. It is in the army's approaches towards India and on other external issues that Durrani makes comments that depart from what is believed to be part of Pakistan's traditional positions.
"Institutionally, the military in Pakistan is not anti-Indian," Durrani says. At another place he asserts that the Pakistani soldier is not trained to hate India. Can these enlightened positions be taken at face value? Are they borne out by what Pakistani writers and commentators say themselves? Finally, do the actions of the Pakistan army over the past seven decades bear out Durrani's assertion.
The answers to these questions are in the negative. Indeed, in his recent book Reimagining Pakistan Hussain Haqqani shows that anti-Indianism is part of Pakistan's ideology. As the army is its guardian can it, as an institution, be not anti-Indian? If Durrani's comments on this fundamental issue lack credibility how far can his statements on others be taken at face value? None. Therefore, his theorising and even statements of facts require to be critically evaluated.
Durrani argues that India prefers conflict in Kashmir and is not serious about bilateral peace-making. He argues that the lack of progress in the Composite Dialogue is on that account.
He is either being dodgy or is not aware of the facts. In each round of the dialogue it was the Pakistani side that was holding back because of a lack of progress on Kashmir. Dulat is particularly critical of Indian diplomats who, he says, did not allow any movement in relations. The truth is that diplomats do staff functions for final decision makers, who are elected politicians in India and the army in Pakistan.
Dulat argues that Kashmir is the core issue between India and Pakistan and that if that is resolved it will transform relations. It will also bring peace to the Kashmir Valley. He is simply not concerned with the other parts of the state or other groups; his focus is only on the Valley.
Is Kashmir the core issue or is it the symptom of historically rooted hostility in Pakistan towards India. Dulat would do well even now to study the twists and turns of Indian history, which led to the Partition and which govern Pakistan's thinking even today.
Dulat also underestimates Pakistan's role in Kashmir affairs, though he concedes that Kashmiri leaders are afraid of that country.
He feels that India-Pakistan and the Centre's engagement with Kashmir must take place simultaneously. He is critical of the Modi government not talking to Kashmiri leaders seriously. This is leading to alienation and driving some youngsters towards the tanzeems.
While there must be dialogue among all political actors as part of India's democratic ethos, it is doubtful if the Kashmiris will stop looking towards Pakistan till its influence is eliminated in the state. That would require a radical departure from India's present approaches. This is necessary for the previous ones simply have not worked.
To think that India can sustain dialogue in the event of a terrorist attack is wishful. Political management require breaks in the process. These are not caused because of the advice of cautious bureaucrats but because of the political need to douse public anger.
Thus, all Durrani's and Dulat's ideas of creating structures or making gestures are simply unworkable because of Pakistan's policy of making terror a part of its security doctrine against India. It is sad that Dulat does not appreciate this for at no stage does he haul Durrani over the coals for Pakistan's use of terror. Indeed, he argues that "If you are talking Kashmir you are automatically moving forward on terrorism." This is astounding coming from a former RAW chief.
In some areas Durrani has been candid. He is critical of the way Pakistan has handled the Kulbhushan Jadhav matter. For this no doubt he will have to pay a price for the Pakistan Army does not forgive any one, including its retired generals, for admissions that seriously embarrasses it over on-going issues. At this stage when it has expressed great anger at Sharif for criticising the lack of progress in the Mumbai attack case it cannot show softness to Durrani. This is also because Durrani says that a South Asia Confederation in the future could come about.
There is much more in the conversations: Afghanistan, (Dulat is critical of India not recognising the Taliban!) the craft of spying, assessments of spy agencies, America's role in the world, takes on many officials, politicians, diplomats, (National Security Advisor Ajit Doval has been particularly targeted by Durrani) insights on the functioning of Indian and Pakistani systems and finally suggestions on how to take India-Pakistan bilateral ties ahead in a positive direction.
For all the insights contained in these exchanges the absence of facts checks and the rambling and elliptical style, especially of Durrani rob them of much value.
In our politically charged time this book will attract Modi detractors but it remains to be seen if will be taken seriously by students of India-Pakistan relations or by the leaderships of the two countries.