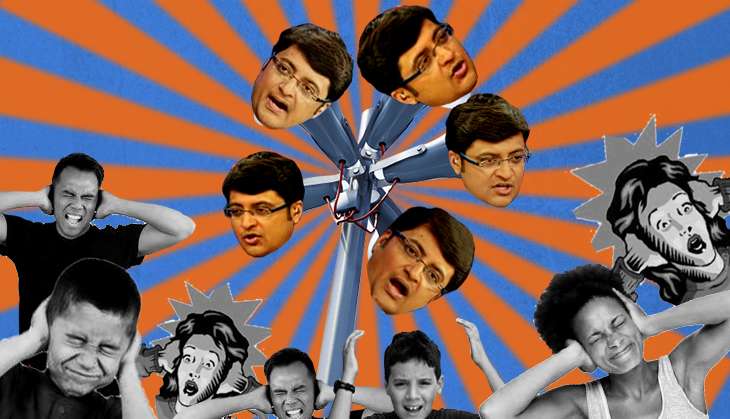 Ordinarily, Times Now Editor in Chief Arnab Goswami's show, THE NEWSHOUR, would evoke laughter because of its stage management - the fiery graphics, the sensationally framed questions, the screaming anchor and the obliging guests. But this time, NDTV's consulting editor Barkha Dutt has chosen to not let Goswami's politics go unnoticed. The point then is not to ask Dutt why did she get angry over Goswami's rant on who he calls India's 'pseudo-liberals'. The point is to ask others of her stature in media what will it take for them to call out the Arnab-brand of journalism.
You can watch Arnab's rant here and read Dutt's full post here
The noteworthy point of Dutt's criticism is this - "Imagine, a journalist actually exhorts the government to shut down sections of the media, misrepresents them as ISI agents and terror sympathisers, calls for them to be tried and acted against". Goswami chose where he wants to stand long ago and then went ahead full-steam. Since then, he has polarised the opinion of TV audiences across the country, attracting possibly equally large batteries of supporters and critics.
Also read: Here's why Barkha Dutt and other journalists lambasted Arnab Goswami on social media
Many senior journalists in the country have various skeletons in their own cupboards, but it is as important to slam the corruption of journalism as it is to call out the use of journalism to perpetuate demagoguery. Both are detrimental to the integrity of journalism. Here are three reasons why what Goswami must be condemned, if not boycotted -
1. Sensationalisation of news - It is not a new malaise but that doesn't mean one shouldn't condemn it. It helps media outlets achieve viewership/readership but betrays the trust that public reposes in media. TV channels do it to attract eyeballs, which, in turn, get them ads and that compensates for the lofty logic of news TV's revenue model. However, impressions once created are hard to undo and that is something that TV editors must think about.
2. Government propaganda - The government has a huge apparatus in the name of public broadcasters to carry its message to a large number of audiences. Private media companies have the responsibility of dissecting government propaganda, not propagating it.
This is required in coverage of national security matters more than anything else. National security does not mean the government's security. Showing all sides of the picture must not be translated into "speaking the Pakistani line", "supporting the ISI" and "supporting Hafiz Saeed".
3. Incitement to censorship - Goswami has labeled all media outlets whose coverage of the unrest in Kashmir is different from his channel's as "dangerous", "pro-Pakistan activists posing as some kind of journalists". He has called for exposing such journalists, "one by one, bit by bit, part by part" and "give them no chance to get away this time". This is not just incitement to censoring sections of the media but also public action like lynching.
TV Today network has done a good job by inviting Dutt and Goswami for a debate on their respective viewpoints, even though its top editors are largely silent on their respective stands.
Also read: #JNURow: Arnab and the art of manufacturing nationalist outrage
So here's an open invitation to @thenewshour Live debate with @BDUTT And no the anchor won't shout you down or impose his views or yell!

— Rahul Kanwal (@rahulkanwal) July 27, 2016
So @BDUTT has accepted invitation to debate Arnab Goswami. We can broadcast live. Let's see if Arnab has the courage to debate against her.

— Rahul Kanwal (@rahulkanwal) July 27, 2016
Best showdown for tonight's Newsroom would have been @BDUTT vs Arnab. But I have a feeling one of the two would have chickened out of debate

— Rahul Kanwal (@rahulkanwal) July 27, 2016
Dutt has accepted the invitation but there is no word from Goswami yet. Unlike most journalists, the Times Now boss doesn't use social media personally. His show does have a twitter handle, but only he might know why does it exist, because all it does is re-tweet Times Now's tweets.
It is unlikely that Goswami will debate Dutt, his former colleague, on a rival TV news channel. But we will not mind that, if he decides to change his and his platform's approach to journalism.
Also read: Nation wants to know: why did Arnab lose his voice in front of Modi?