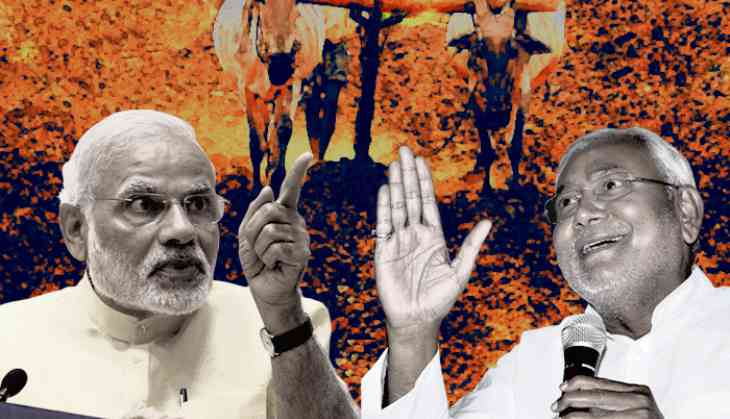 Narenda Modi Nitish Kumar (Catch News)
BJP has been growing stronger in Bihar. Its junior partner JDU - in terms of MLAs in the state assembly - sulked over its diminishing power and decided to snap the marriage of convenience. Although a junior partner, Nitish Kumar retained the Chief Minister's post. Nitish never offered to abandon CM's chair, despite lacking the number to justify his claims. NDA coalition dharma kept him in CM's chair, which became a handicap for BJP's local leadership which aspired to have a BJP chief minister in the state.
Wide canvas for BJP
Now that Nitish has joined forces with RJD, the political landscape is all for grabs for the BJP in Bihar. NDA minus JDU is a setback for BJP, but that opens up many doors for the local and central leadership to claim and campaign for a full majority BJP government in Bihar.
RJD-JDU history not rosy
Both the parties look at each other with great suspicion as witnessed in the past when Nitish Kumar severed ties with RJD accusing it of indulging in corruption. Those nefarious tendencies could again try to milk the administration and political system. Herein lies an opportunity for the BJP to reach out to voters and take advantage of possible incumbency against the newly formed government.
Sympathy factor
BJP will continue making the point that voters had given the verdict in favour of NDA which included BJP and JDU. The whole campaign of NDA in Bihar was against the past rule of RJD. Now, Nitish basking in the company of RJD naturally raises moral and ethical questions which Nitish must answer at some point in future.
What is the secret arrangement?
Nitish Kumar has national ambitions, reports suggest. He could be looking at being a possible joint opposition face for the Lok Sabha elections in 2024. This means he occupies Bihar CM's seat for some time before abdicating it for Tejashwi Yadav.
Nitish Kumar's entry into the national fray will crowd PM aspirants group in the opposition camp. Rahul Gandhi, Mamata Banerjee, and now Nitish Kumar could easily be the opposition candidates to challenge BJP's election machinery. But as they say, too many cooks spoil the broth.
JDU-RJD alliance has once again dented the reputation of Nitish Kumar as a dependable ally. Many see this as his last ditch effort to remain politically relevant. If the people of Bihar don't witness any tangible benefits in the coming years, this could well be the biggest problem of Nitish Kumar.