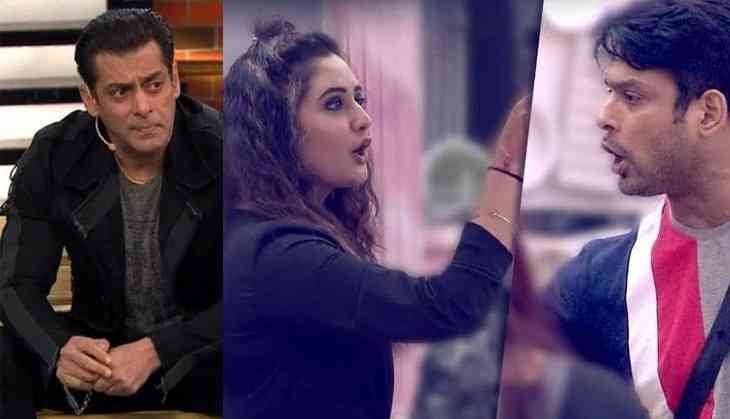 The format of Bigg Boss reality show evokes extreme emotions from the contestants and Bigg Boss 13 is no exception. But, whenever the contestants cross the limit, the real big boss Salman Khan invariably reprimands them and refuses to trade respect of women for TRP ratings or any other consideration. But the brawl between Rashami Desai and Sidharth Shukla witnessed a really strange side of Salman Khan.
Rashami Desai kept sobbing, kept imploring to Salman Khan to protect her from constant character assassination from Sidharth Shukla who kept calling her 'Teri Jaisi Ladki' even in front of Salma Khan. Sidharth Shukla even made another extremely derogatory remark about Rashami Desai--a comment we don't deem fit to be repeated. Rashami Desai kept fighting back and demanded justice should be done to her.
How will you react in this situation Salman ji?: Rashmi Desai
Rashami Desai even asked Salman his reaction if confronted with these derogatory remarks. When she refused to be cowered down, Salman retorted: "Have you lost the plot Rashmi". Soon, Rashmi Desai appeared to go into her shell, and the whole matter was given a different twist and swept under the dirty rug of Bigg Boss House.
Teri Jaisi Ladki: An excuse to commit a crime
In India, where the concept of patriarchy still rules our minds, girls are branded "teri jaisi ladki" and then justification is sought for the crime committed on them. What they wear, eat, read, speak or watch becomes the reason for inviting the wreath of the males of our society. Many times we have heard this insane comment: Girl like you (teri jaisi ladki) who wear short skirts are responsible for rapes in the country.
It is so easy to brand woman bad character and then try to outrage her modesty. Call a woman a witch and murder her on the basis of this suspicion as being witnessed in our villages even today.
At a time when there is an outrage in the country after a series of rape and murder cases, Big Boss 13 simply appear to disappoint.
Salman Khan, going by his reputation of being fair in such situations simply "lost the plot" this time.
Kudos to Rashami Desai for waging a war against those who tried to smear her character.
India is proud of 'Teri Jaisi Ladki' Rashami who has the guts to call a spade a spade.
Also Read: Forbes List 2019: From Neha Kakkar, Sunny Leone to Kapil Sharma; TV celebs who make it to the list