Suvendu Adhikari blasts CM Mamata Banerjee, accuses her of using public money for political ends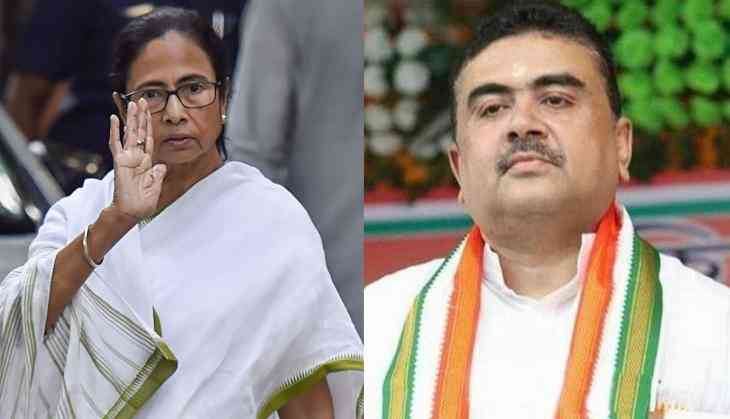 Suvendu Adhikari blasts CM Mamata Banerjee.
BJP leader Suvendu Adhikari on Sunday lashed out at West Bengal Chief Minister Mamata Banerjee, accusing her of using public money to fulfill her political needs.
In a series of tweets, the Leader of the Opposition in West Bengal Assembly questioned the source of funds for holding a function in Bankura district for the beneficiaries of the state's public distribuition scheme on Friday.
The event at Balarampur in Bankura district was presided over by the chief minister.
Questioning the source of money for holding such an event, Adhikary tweeted, "Since the source of funds to meet such egregious expense is undisclosed, will DM Bankura & @chief_west specify where did the funds come from? Mid Day Meal? PM Poshan? Central Grant for acquisition of land for National Highway? Why such extravagance when WB is in a fiscal crisis?"
Also questioning the presence of school children at the event, he said 700 buses were hired for transporting students and the poor beneficiaries of the scheme at the event alleging that students were being forced to listen to the political speeches of the chief minister at the cost of the public exchequer.
"Rs. 78 lakh has been paid to hire 700 buses for transporting students & poor beneficiaries to attend CM @MamataOfficial's so-called Administrative Meeting at Bankura on 17th Feb. Why're students being forced to listen to political speeches at the expense of the public exchequer?" he tweeted.
"Factoring in the other expenses, like deployment of 8000 Police personnel, construction & decoration of stage, canopy; logistical expenses etc; the total amount spent for CM's 'unproductive' 40 minute purely political event is approx 3 to 4 crores," he added.
Addressing the event on Friday, the Bengal CM Mamata announced that her government will help 10 lakh youth in the state find a secure livelihood.
She also announced a grant of Rs 5 lakh each to two lakh youth to start their own, independent businesses.
(ANI)
Also Read: Excise policy case: Manish Sisodia links CBI summons to BJP setback in SC over mayoral polls