Sasikala gets AIADMK top post on a platter: Now she has to prove herself
S Murari
| Updated on: 11 February 2017, 5:47 IST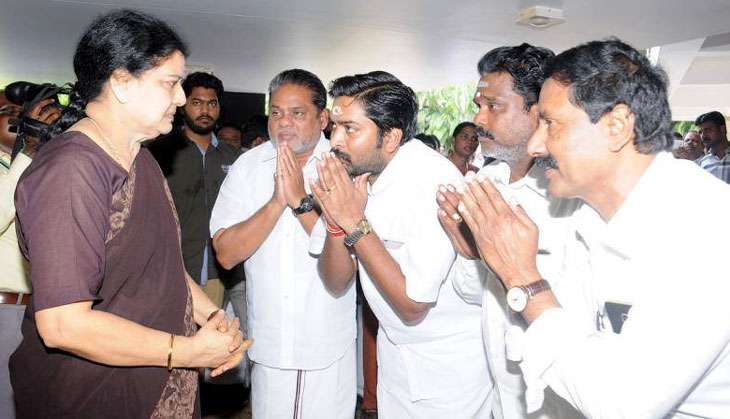 Less than a month after the passing of former Chief Minister J Jayalalithaa, her close aide Sasikala Natarajan has got the post of AIADMK general secretary on a platter.
It's now clear that if she covets the post of Chief Minister, it will be hers for the taking, as the incumbent head of the government, O Panneerselvam, will only be too glad to get her elected as an MLA.
It has been a smooth transition for Sasikala, as the rudderless party has desperately turned to her to take charge, on the strength of her close association with Jayalalithaa for over three decades.
It is a different matter that Jayalalithaa treated Sasikala as her personal aide, and never entrusted her with any post in the party, much less in government. She even sent her packing out of her house and out of the party the moment she got wind of a plot to upstage her way back in 2012. She readmitted Sasikala only after the latter publicly declared that she had no political ambitions.
That is history. Now that Jaya is gone, the party has no second line of leadership to challenge Sasikala.
General council resolution
In a well-orchestrated move, Sasikala got the general council to adopt a resolution asking her to take over as general secretary, a post held by Jaya since the passing of MG Ramachandran in 1987.
The resolution was passed unanimously. Panneerselvam, accompanied by senior leaders, called on Sasikala at Jaya's Poes Garden residence, and presented a copy of the resolution in a one-hour meeting. He told reporters later that it was up to Sasikala to decide when she should take charge.
It was a low-key affair with just a few hundred party men, and hardly any women cadres, in attendance at Poes Garden to witness the change of guard.
It was in keeping with Sasikala's style of functioning, as she has always been seen as a behind- the-scenes operator.
Another reason was that all important party leaders were at the general council meet, which was being held in a suburb far away from Poes Garden.
Sasikala did not attend the general council, which waived the requirement that only someone who has been a party member for at least four years can be general secretary.
A first for AIADMK
Sasikala has been handling party affairs under Jaya's guidance for years now, and many party functionaries, including MLAs, owe their position to her.
This will be the first time in the over 40-year history of the AIADMK that there will be a dual authority. MGR and his protégé Jayalalithaa held both the party post and the Chief Ministership whenever the AIADMK was in power.
However, it is clear that Sasikala will not be able to function as an extra-constitutional authority, as she used to during Jayalalithaa's lifetime. This is because the Opposition DMK, which has a strong presence in the state Assembly, will not stand for it.
Leader of the Opposition MK Stalin had already raised questions about why the government was continuing to provide police security to a person who did not hold any position. Immediately, Panneerselvam had scaled down police presence at Poes Garden.
Stalin had also questioned why vice-chancellors of universities called on Sasikala. This was echoed by Governor C Vidyasagar Rao as well.
Centre's patronage of Panneerselvam
The smooth transition of power to Panneerselvam after the death of Jayalalithaa is being attributed to influence exerted by Prime Minister Narendra Modi. As such, Sasikala will find it difficult to replace Panneerselvam, so long as he enjoys the Centre's patronage.
One way out will be for the AIADMK to field Sasikala from RK Nagar, a seat which has fallen vacant with the death of Jayalalithaa. It is a traditional AIADMK seat and a compact constituency. Once Sasikala gets elected to the Assembly, she can strike at an opportune time.
Panneerselvam will have to handle Sasikala deftly. He acted independently in handling the recent the cyclone, and his swift meeting with Modi to plead for assistance even won praise from the DMK.
The government also ensured that Jayalalithaa's funeral went off smoothly, given the visit of VVIPs like the Prime Minister and President Pranab Mukherjee.
Panneerselvam's administration has also gone along with the Modi government on crucial issues like the GST Bill, food security, and long-pending central schemes like the Ennore expressway project.
Even if Sasikala decides to consolidate her hold on the party before going after bigger goals like the Chief Minister's post, she will have to prove herself.
Can Sasikala win over the people?
It took over a decade for Jayalalithaa to assume control of the party and come to power. There was resistance from within the party even during MGR's lifetime. It intensified after his passing in 1987. She got the party under her control only in 1990, and came to power for the first time in 1991.
Even so, she suffered several political setbacks and consolidated her position only after 2011.Her parting gift to the AIADMK was the second successive term she won in 2016.
Jaya was able to win despite convictions in corruptions cases, in many of which Sasi was also a co-accused. The last case is the disproportionate assets case, which is awaiting hearing in the Supreme Court.
Regardless of the court verdict, people tolerated Jaya's corruption. Will they be equally charitable to Sasikala? Women especially resented Sasikala's ostentatious lifestyle of the 1990s. She has since changed, and does not flaunt her wealth.
Power being a cementing factor, the party may stay together under Panneerselvam. But if Sasikala is not able to get votes as Jaya did for years, resistance will start building against her.
That is going to be her biggest challenge - gaining acceptance by party men and by the people.
Edited by Shreyas Sharma
More in Catch
Sasikala takes over Jayalalithaa's party. Meet the new AIADMK general secretary
AIADMK adopts resolution to work under leadership of 'Chinnamma' Sasikala Natarajan
Formal titles or not, Sasikala is the power behind the throne in Tamil Nadu