Formal titles or not, Sasikala is the power behind the throne in Tamil Nadu
S Murari
| Updated on: 23 December 2016, 12:31 IST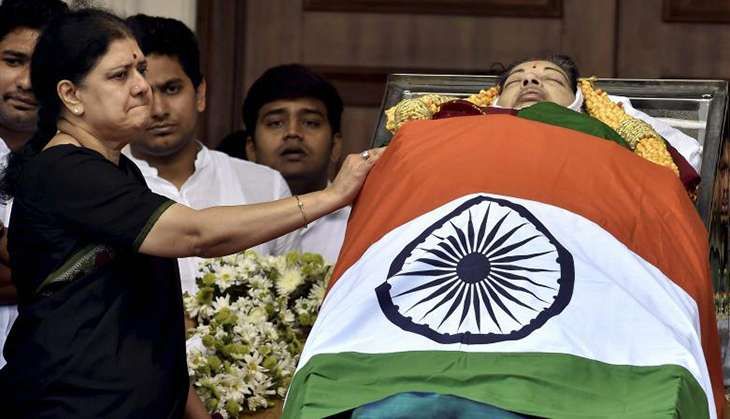 With the passing of four-time Tamil Nadu chief minister and AIADMK general secretary J Jayalalithaa, the rudderless party has turned to her close confidante Sasikala Natarajan. The party wants her to take over as general secretary or as chief minister, or both.
There is no challenge to her. Had she wanted she could have assumed power immediately after the death of Jayalalithaa on 6 December. But she did not, and rightly so. Instead, she got her chosen nominee O Panneerselvam to form the government. It was the legislature party which met at midnight to pick the ministry.
But to choose a general secretary in the place of Jayalalithaa, the party's general council will have to meet. In an emergency, the powerful executive committee can name Sasikala general secretary and later get the decision endorsed by the general council. But it has not happened.
Also Read: Importance of being Sasikala: Will Jayalalithaa's confidante be her heir?
Despite pressure building up from the party to lead, Sasikala has so far acted with restraint. She is used to power, but without responsibility. Ever since she moved into Jaya's Poe's Garden residence over 30 years, Sasikala had been looking after the former chief minister. Whether her association with Jaya was a bane or a boon to her and to the party is debatable.
Sasikala got Jaya embroiled in a slew of corruption cases during her first term from 1991 to 96. Jaya managed to secure acquittal in most cases over the years. It was her conviction in the Rs 56 crore disproportionate assets case which she had dragged on for over 18 years and which finely proved to be her undoing.
Though Jaya had got the trial court's verdict - sentencing her, Sasikala and two of Sasikala's kin each to four years imprisonment and fines of Rs 100 crore, overturned by the Karnataka High Court - the Karnataka government's appeal is awaiting order from the Supreme Court.
While the case against Jaya will abate as she is no more, Sasikala, her sister Ilavarasi and nephew VN Sudhakaran face jail if the Supreme Court upholds the trial court's judgment pronouncing them guilty as co-conspirators. It is this which is holding back Sasikala in taking any precipitate step like taking over as Chief Minister or party general secretary.
Jaya was accepted by the party as well the people as AIADMK founder MG Ramachandran's heir. Even so, after MGR's passing in 1987, the party split into two factions, one led by Jaya and the other by MGR's wife Janaki. The division of the AIADMK vote helped return Karunanidhi's DMK to power in 1989, after a gap of 13 years.
It was the rout of the Janaki faction in that election that made her gracefully hand over the keys to the party funds to Jaya. She quickly reunited the two factions, got back the two-leaves symbol and on the strength of it marched triumphantly to power in 1991.
While Jaya was alive, Sasikala was only a parallel power centre. Although keeping her in her house, Jaya did not entrust her with any responsibility. When she got wind of a conspiracy by Sasikala's husband M Natarajanto capture the AIADMK in the event of her conviction in the corruption case in Bengaluru, Jaya expelled Sasikala and her relatives from the house as well as the party in January 2011
Sasikala managed to get back into Jaya's good books in March 2012 by publicly stating that she was unaware of the conspiracy, that she had no political ambition and she would forever be loyal to her.
While Jaya allowed Sasikala to amass wealth, she did not countenance any threat to her position. Such being the case, the old guard in the party naturally say Sasikala's role in Jaya's life was limited to looking after her in sickness and in health.
Also Read: A fighter to the end, Jayalalithaa leaves behind a complicated legacy
Now that Jaya is no more, Sasikala has the advantage of money power. The AIADMK under Jaya got a fresh term earlier this year. As such, there is no threat to the government for five years. Although many MLAs may owe their position to Sasikala who got them the tickets to contest, no one will rock the boat and force an early election at a time when there is no Jaya around to get them votes. As such Panneerselvam's position as the chief minister is secure.
Face of the regime
Panneerselvam is also the AIADMK treasurer. But it's Sasikala who holds the purse strings. To that extent, he has to defer to her.
His position is somewhat akin to that of PV Narasimha Rao who became prime minister thanks to Sonia Gandhi in 1996. Only, he may not possess Rao's shrewdness in pleasing Sonia and at the same time keeping her away from government.
Panneerselvam showed he can act independently when cyclone Vardah devastated Chennai recently. He did not look to Sasikala and went by the advice of officials. And Sasikala did not make an issue of it. The understanding being that she will look after the party, in an official or unofficial capacity, and Panneerselvam will take care of governance.
It's a cosy arrangement that can continue so long as Sasikala does not interfere in the administration as she used to during Jaya's reign. This is because Sasikala cannot face the DMK, which has a powerful presence in the assembly and will not allow rule by proxy.
From when Jaya was hospitalised and until she breathed her last, Sasikala was the de facto chief minister, calling the shots in the administration. If Jaya's funeral went off without a hitch, the credit should go to Sasikala to whom top officials kowtowed. (Her political acumen, if any, is untested, however.)
Since the funeral, Sasikala has gone into a shell. So long as she stays in the background, Panneerselvam can sit pretty. The DMK has already praised him for meeting Prime Minister Narendra Modi and raising some of Tamil Nadu's key demands - cyclone relief, of course, but also setting up of the Cauvery Management Board, an unfinished task of Jaya.
That top bureaucrats are still assisting Sasikala in an unofficial capacity is evident from the letters she has written to President Pranab Mukherjee, the prime minister, and Congress vice-president Rahul Gandhi, thanking them for attending the funeral.
Meanwhile, Panneerselvam has again reaffirmed his loyalty to Jayalalithaa by presenting a cabinet resolution to Modi, pleading that Jaya be honoured with Bharat Ratna. An emotional over-reaction which will surely but tactfully be ignored by Modi.
Also Read: From glamour queen to politician, the extraordinary story of Jayalalithaa