On surgical strikes, BJP asks Kejriwal: "why are you swayed by Pak propaganda?"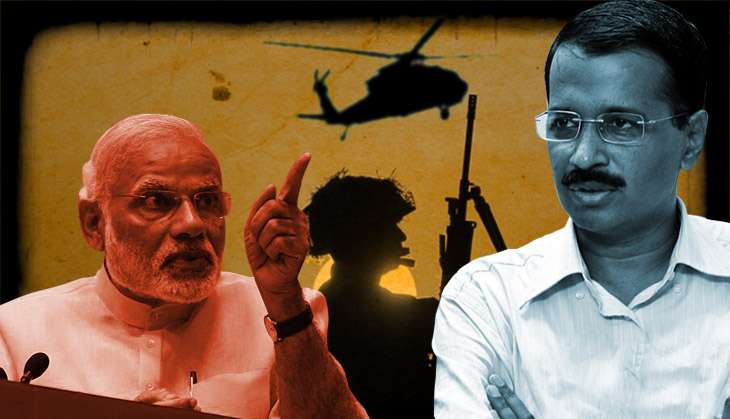 After a week of 'tactical restraint', voices from the Opposition have begun questioning the 'surgical strikes' made by India across the Line of Control in Jammu and Kashmir. And the BJP, feeling the heat, finally decided to speak up on Tuesday.
On Tuesday, senior BJP leader and Union Law Minister Ravi Shankar Prasad slammed Arvind Kejriwal and P Chidambaram for demanding details of the strikes launched by the Indian Army last Thursday.
Prasad accused the Delhi Chief Minister of working for Pakistani interests by asking Modi to release footage of the strikes, and claimed Chidambaram was weakening the army's morale by asking for details of the strike.
"Today, you have become the headline in Pakistan, Mr Kejriwal. In your video, you claim about Pakistan's propaganda: why are you getting swayed by it? Are you questioning the valour and precision with which the army struck terror launch pads?" Prasad asked in a press conference.
Kejriwal's demand
Kejriwal had saluted Modi for the strikes, and urged him to counter propaganda by Pakistan - which claims the strikes never took place - by releasing video footage of the strikes. This was highlighted by the Pakistani media on Monday.
A senior BJP leader wondered whether after Punjab, Kejriwal was looking to contest seats in Pakistan, because of how he was helping its propaganda.
Chidambaram's statement
A day after Kejriwal released his public address to the Prime Minister, former Union Finance and Home Minister and senior Congress leader P Chidambaram also raised questions about the strikes.
He said the much-hyped strikes were not the only time that the Indian Army had crossed the Line of Control (LoC) to take punitive action, and that a similar major strike took place in January 2013, when the UPA was in power.
But the UPA government, in which he was a minister, did not go public with the details, he said, for strategic reasons. At the same time, he also urged the PM to give more details about the strike.
Other senior Congress leaders have also attacked BJP over the strikes. Digvijaya Singh has called Modi and National Security Advisor Ajit Doval 'war mongers', while Shashi Tharoor has asked the government to provide coordinates of the places where the surgical strikes were carried out.
In his conference, Prasad asked Congress president Sonia Gandhi to inform the party and the public whether Chidambaram's statement reflected the views of the party, "based on which we will give an appropriate response".
Edited by Shreyas Sharma
More in Catch
#AKBackStabsModiOnPak: Kejriwal praises Modi for surgical strike, gets trolled on Twitter
Kejriwal all praises for PM Modi, says nation fully supports PM on surgical strikes
Delhi CM Arvind Kejriwal goes on 'mute mode' after tongue surgery