Lok Sabha polls 2019: PM Modi and CM Palaniswami meet may pave way for AIADMK-BJP alliance in Tamil Nadu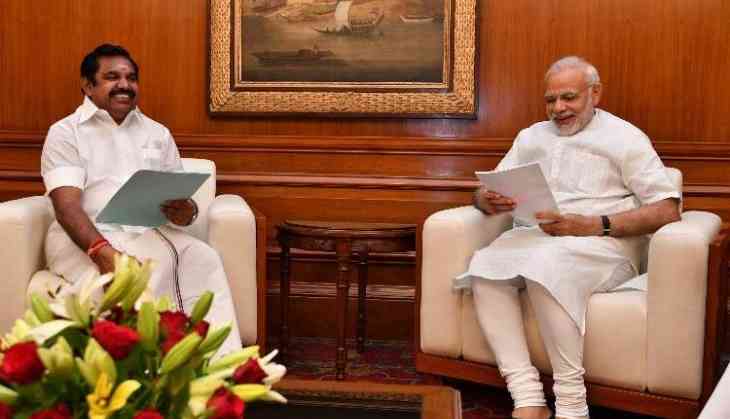 E Palaniswami's and PM Narendra Modi
Tamil Nadu CM E Palaniswami's meeting with PM Narendra Modi in New Delhi on Monday is being seen as a political gamechanger for the BJP, as it could clear the paths for an electoral alliance between the AIADMK and the BJP in Tamil nadu.
The Monday meeting between EPS and Modi has gained political mileage, especially since neither the EPS nor the deputy CM O Panneerselvam could get a meeting fixed with the PM in last one year, creating a logjam and blockade between the two parties.
The ice breaking session happened recently in Tirumala when a chance meeting between EPS and Vice President M. Venkaiah Naidu helped the two parties to re-initiate the dialogue and create an environment of alliance.
Thereafter, a subsequent meeting between Tamil Nadu ministers SP Velumani and P Thangamani with defence minister Nirmala Sitharaman in Delhi consolidated the relationship.
"It has been more than a year since EPS met the PM, with the with the last such meeting between the two happening in August 2017. Besides discussing current issues like AIIMS in Madurai, hydrocarbon project and the release of seven convicts undergoing imprisonment in the Rajiv Gandhi assassination case, they could also be discussing politics on Monday," said an AIADMK leader.
BJP has realized that after loosing out on allies like TDP, PDP, Shivsena etc. it would be a tight-rope walk for the ruling dispensation to get a full majority in the Lok Sabha election. As per the recent surveys, BJP is set to loose around 70-100 seats in the Hindi belt region and Amit Shah would definitely want to consolidate those seats from the South and North-East, which requires an alliance with the big names.
Also read: Gujarat: 'Migrants not fleeing but returning home for the festivals,' says Gujarat DGP on north
In our meeting with PM today, we have put forward a demand to accord Bharat Ratna to 'Amma' and Arignar Anna (CN Annadurai). We also demanded Chennai central railway station to be re-named after AIADMK founder MG Ramachandran: Tamil Nadu CM pic.twitter.com/uwJY1o16uL

— ANI (@ANI) October 8, 2018