EC should have said zero instead of Rs 2000: Jagdeep Chhokar on funding for parties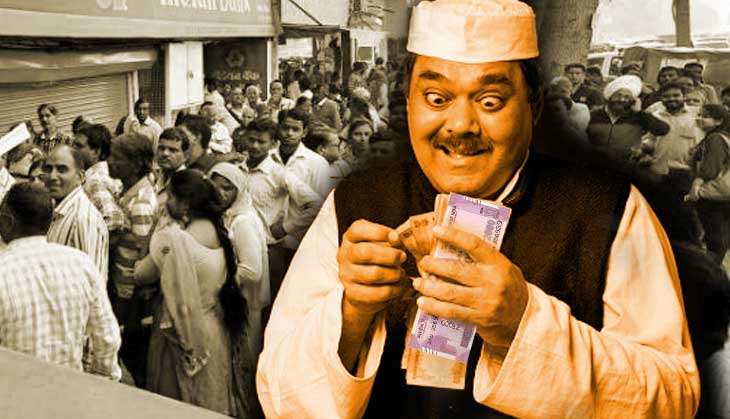 Established in 1999 by a group of professors from the Indian Institute of Management (IIM) Ahmedabad, Association for Democratic Reforms (ADR) has been conducting multiple projects aimed at increasing transparency and accountability in the political and electoral system of the country and has even moved courts for the same.
Their intervention in 1999 led to Supreme Court making it mandatory for all candidates contesting elections to disclose criminal, financial and educational background prior to the polls by filing an affidavit with the Election Commission (EC). They have brought out reports on the funding of political parties among others and have been raising issues seeking greater accountability of political parties and need for inner-party democracy.
Catch spoke to ADR's Jagdeep Chhokar on the latest recommendations by the EC on funding for political parties. Excerpts:
The EC has recommended that the government ban anonymous contributions over Rs 2,000 to parties. What are your thoughts?
This is a good suggestion but it would have been better if the EC had recommended zero instead of Rs 2,000. It would help bring down the use of black money to a certain extent.
For example, there is a political party whose annual income is Rs 400 crore which says that it does not accept any donations more than Rs 20,000. This means all the donations, which add up to Rs 400 crore, are less than Rs 20,000 each.
Also read - Slash anonymous donations from Rs 20,000 to Rs 2,000 for all parties: EC
Theoretically, they will have to issue receipts of Rs 19,999 each, which total up to Rs 400 crore and if this suggestion is accepted they will have to issue receipts of Rs 1,999 each. It would be far more complicated for that particular political party to issue these many receipts. Practically, I don't think any receipts are issued.
Money is collected and shown as donations below Rs 20,000. Political parties do not reveal how many donations they have received that are below Rs 20,000.
If we add up the list of donations above Rs 20,000 and compare this with the annual income declared by the parties in their income tax returns, then on an average, donations above Rs 20,000 make for only 20-25% of the total income.
So, 75-80% income of political parties is from unknown sources who could be anyone. Sometimes they say these are from sale of coupons and other means but no political party has ever given details. No political party has declared these details and I suspect they have never been asked.
Amid these developments, how do you look at the recent statement made by the revenue secretary that political parties can deposit any amount of old currency notes and no questions would be asked?
There was an attempted clarification made by the Finance Minister Arun Jaitley, but that clarification does not add anything new. The clarification says that this is according to the existing law.
But the existing law has only two provisions - annual income tax return has to be filed and details of donations above Rs 20,000 have to be given to the EC. The existing law has no provisions for old and new currency.
This arguably creates another avenue for conversion of black money into white.
For example, a person with Rs 20 crore in old notes who cannot deposit more than Rs 2.5 lakh in his/her account can give it to a political party in cash. The party can then deposit it in its account.
First, the person earns the gratitude of the party which she/he can take advantage of in future in a quid-pro-quo. Second, the person can raise bills, say for Rs 10 crores, on the party for services rendered. The party can then pay the person Rs 10 crore by cheque. Then Rs 10 crore becomes white money for this person, and the remaining Rs 10 crore remains as white money with the parties. Both sides are happy.
Generations of black money will not stop by demonetisation.
What do think of the EC's recommendation that only political parties that contest elections should be exempt from paying tax?
The only rationale behind political parties not paying tax is that political parties do public work. But public work is also being done by lot of other organisations. So tax exemptions to parties does not really stand the test of logic, and to those that don't contest elections is completely unreasonable and unacceptable.
India is a unique country where the EC can register parties but can't de-register them and there is a Supreme Court judgement to this effect. So these parties remain in perpetuity and have tax exemption.
At the last count, there were more than 2,000 parties and they all enjoy tax exemption and only about 200-300 contest elections. I welcome this suggestion but I will be happier when they implement it.
Prime Minister Narendra Modi has been consistently pushing for a cashless economy. What do you think of political parties going digital as far as donations are concerned?
I completely agree. Political parties should not say that first the country should go digital and then we will. Why don't they go digital first?
What is your view on the state funding of elections?
State funding of elections is a misnomer. The "state" does not have any money of its own. All it has is the money that it collects from people as taxes. Therefore, it should be called public funding of elections, and not state funding.
Philosophically it is a good idea since the perception is people get elected to public office to do public service. Practically, people contest elections for variety of reasons and only if they were contesting elections to serve public, they should be given public money.
The first requirement for implementing public funding of elections is that we should know how much to budget for it. For that, it is necessary to know how much money is actually spent on elections by candidates and political parties.
In 2009, we analysed election expenditure affidavits of 6,753 candidates and out of them only four said they exceeded the limit. Meanwhile, 30 said that they spent 90-95% of the limit. The rest, 99.99%, said they spent 45-55% of the limit which means vast majority said in a sworn affidavit that they spent half the limit.
Ironically, there is always a hue and cry that the limit is too low. Now if the limit is low, then how come people are spending half the amount? One former election commissioner said that since most of the candidates are spending only half of the limit and are saying so in sworn affidavits, we should reduce the limit. But, every election, the limit goes up.
On that note, it is well known that black money is used to fund elections. How do you suggest this can be controlled?
The ways can be found only if there is willingness to do so. Political parties control the Parliament, and they are not willing to be governed by any law. RTI was passed by the Parliament unanimously which laid down four conditions for any body to become a public authority. The highest statutory body, the Central Information Commission, in a full bench decision in 2013, said that six national parties are public authorities under RTI.
However, these parties didn't honour this decision. A complaint was lodged with the CIC and after two years of dilly-dallying the CIC said they cannot get their own order implemented.
Later, we moved Supreme Court that issued notices to six parties and government of India. Before any political party could respond, the government responded saying parties shouldn't be under the ambit of RTI. The use of black money during elections can only stop if political parties and politicians come under the law of the land which is not the case.
The government and the EC have been talking about concurrent elections. Do you think it would bring down the expenditure and is it feasible?
It will bring down the expenditure but the question is should we have a democracy that is cheap or the one that is effective. Is it justifiable to put a cost on democracy? If you don't want to spend then why have elections. It is outrageous to say that we should reduce the expenditure on elections which is the most fundamental means of operationalising democracy.
Under the Constitution, states are independent bodies and have their own election cycles. Why should they be forced into the federal cycle of elections? This would be a subversion of the Constitution.
Moreover, since 1989, there have been 31 instances of concurrent elections in different states and interestingly in 24 elections the major political party polled similar number of votes both in assembly and Lok Sabha. This logic of 'One country One Tax', 'One Country One Election' and 'One Country, One Party' is like subverting the Constitution.
In any case, about 5 to 7 articles of the Constitution will need to be amended for simultaneous elections to take place which is almost impossible under the current political climate.
Edited by Aleesha Matharu
More in Catch - Dark secret: how six parties frustrated the bid to bring them under RTI
Weapon of mass digitisation: PM Modi's gambit has nothing to do with black money