Divide & rule: Mamata encourages internal feud in BJP, pitches for national govt at Centre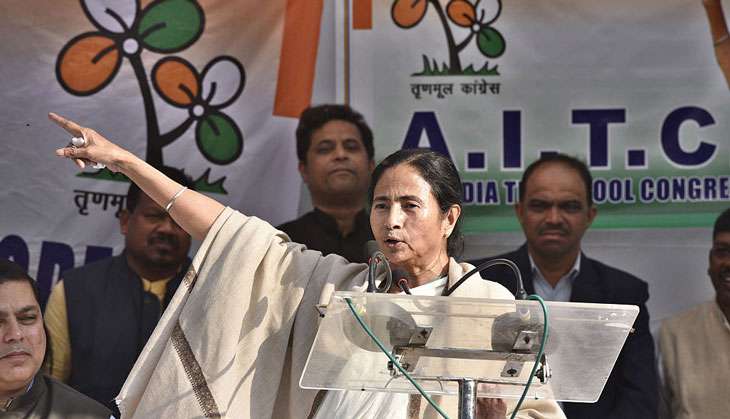 To intensify her fight against demonetisation, Mamata Banerjee is not just pitching for a national government in the Centre, she is also trying to create a division in the BJP by encouraging internal feud.
On Friday, Mamata accused BJP of political vendetta as she stressed on the need for a national government in the Centre. She even named BJP leaders like LK Advani, Rajnath Singh and Arun Jaitley to be a part of the government.
In current situation a national Govt should be formed: Mamata Banerjee #DeMonetisation pic.twitter.com/ZoLLvjxp3C

— AITC (@AITCofficial) January 6, 2017
To save this country, let a national Govt be formed:Advaniji,Rajnathji or Jaitleyji can head it.This current situation just unacceptable:MB

— AITC (@AITCofficial) January 6, 2017
Let us set aside the political differences, draft a Common Minimum Agenda and form a National Govt at Centre: MB #DeMonetisation pic.twitter.com/asqugoCXni

— AITC (@AITCofficial) January 6, 2017
It is time for President's rule at Centre: Mamata Banerjee #DeMonetisation pic.twitter.com/bwXmAkoEmO

— AITC (@AITCofficial) January 6, 2017
Mamata has also sent a letter to the President of India urging him to form a national government.
On 2 January, the Centre had written a letter to the Bengal government to wind up the Bureau of Industrial Reconstruction (BFIR) and its allied body, the Appellate Authority for Industrial Finance and Reconstruction (AAIFIR). These bodies were entrusted with the revival and rehabilitiation of sick industrial companies under the Sick Industrial Companies (Special Provisions) Act, 1985.
As a result all pending cases before BFIR and AAFIR stand unabated and the cases will be opened freshly by the National Company Law Tribunal(NCLT)
Banerjee said, "All the parties irrespective of party colour should come to a consensus where a national government should be formed as the way the Centre is functioning and closing down all institutions is really disturbing."
Pressure tactics
Top sources in the All India Trinamool Congress (AITC) said that with Centre trying to keep the pressure on the Trinamool party, through CBI arrests in the Rose Valley chit fund scam and Saradha chit fund scam, Mamata too is trying to find a strategy to keep the Centre under pressure.
A senior AITC leader on condition of anonymity said, "There are differences of opinion within the BJP after demonitisation was carried out by the PM as many small-scale farmers, small and medium enterprises have been affected badly. In the state BJP, there has always been a rift between state president Dilip Ghosh and national secretary Rahul Sinha."
The AITC leader also said they are now trying to find out the gaps in the central leadership too so that they can use this to keep the central BJP under pressure as well.
The AITC leadership has already created hostility within the state BJP leadership, by damaging their state offices in various districts and injuring various BJP members in a clash between the TMCP and the BJP a few days back.
BJP state president Dilip Ghosh said, "As most of the leaders of AITC are in CBI custody, the AITC leadership is in crisis and so they are trying to take revenge on us. But CBI investigation has been continuing based on the Supreme Court verdict and we do not see any political vendetta behind the arrests."
Senior politician Nirbed Roy said, "It needs to be seen how much the divide and rule strategy of AITC works. Trinamool Congress has already started the process of creating a division in BJP party by encouraging internal feud."
Bengal BJP national secretary Rahul Sinha said, "We will decide our party strategy. Mamata Banerjee does not have to give us any idea on to it."
Edited by Jhinuk Sen