CAA 'splits' Congress: Party leaders divided over implementation of Citizenship Law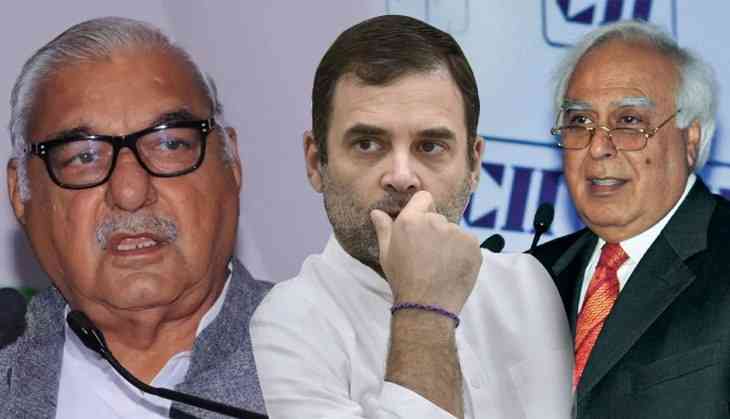 After the abrogation of Article 370, top Congress leaders have again differed with their party over the Citizenship Amendment Act (CAA) implementation. The difference of opinions among the leaders has stated coming to fore following the passing of resolutions against the CAA by the Kerala and Punjab State Assemblies.
After senior leader and former Union Minister Kapil Sibal, ex-Haryana Chief Minister Bhupinder Singh Hooda also said that states can not refuse to implementation of a law passed by the Parliaments.
Speaking to the news agency, ANI the former Congress CM said, "Once a law or act is passed by the Parliament, I think that the constitutional view is that, any state can not and should not say no to the law or act."
However, that should be legally examined, Hooda added.
Earlier, Sibal, who is also a renowned lawyer had said states can not say no to the implementation of CAA. Doing so is institutional.
His party leader Salman Khurshid also backed him and said, "Something is on Statue book, you have to follow."
If the Supreme Court does not interfere, it would remain on the Statute book, the former Law minister Khurshid said.
The apex court ultimately will decide the final pronouncement.
However, senior Congress leader Ahmed Pateldiffered from the two top leaders and his party colleagues and said, his party(Congress) is planning of bringing resolutions against the CAA in all its ruling states.
After Punjab, the Congress is thinking about bringing resolutions in Madhya Pradesh, Rajasthan, and Chhattishgarh. These will send a clear message to the Narendra Modi-led government at the Centre to reconsider the Law, he said.
Worth mentioning here, several Opposition parties including Congress are opposing the newly enacted law, which gives citizenships to non-Muslim refugees from neighboring Pakistan, Afghanistan and Bangladesh, who came to India before or on December 31, 2014.
Also Read: BJP MP Soumitra Khan: Intellectuals protesting against CAA are Mamata Banerjee's 'dogs'
Shaheen Bagh anti-CAA protests: FIR against protesters for road blockade