All party delegation visit faces sweeping boycott in Kashmir
Catch Team
| Updated on: 5 September 2016, 13:03 IST
If anything, the visit of the all-party delegation to Kashmir is yet another reminder of how little has changed in regard to how New Delhi and Kashmiris approach each other.
A sense of deja vu is in the air. It almost appears as if the pause button was pushed on the extended 2010 unrest and replayed in 2016. And with it, the actors in Srinagar and New Delhi have slipped back into their predictable roles.
It is back to street protests and stone-throwing in Kashmir - this time, more ferocious and more endemic than in 2010. And back to a familiar response from New Delhi, this time, more knee-jerk and more hardline than before.
An all-party delegation is a tired old act being re-enacted and thus eliciting only ridicule in Kashmir.
"Centre doesn't want to talk to Hurriyat. Hurriyat doesn't want to talk to the Centre. Head of the visiting delegation Rajnath Singh also will not meet Hurriyat. Only members can meet whosoever they want to," says a Bilal Ahmad, 35, a street vendor in Baramulla, well versed with the developments so far.
"What is the fun of this whole exercise? What will it achieve?"
In Kashmir, Ahmad's understanding of the situation is endemic. The
sense of a drift, as a result, is fuelling cynicism about the state of affairs.
"
I wonder where is it all going to end," says the retired headmaster Abdur Rahman, a resident of Rawalpora, Srinagar.
"
We know our disease defies a cure, but there are not even pain killers for it now."
Discontent and anger
Hurriyat hawk Syed Ali Shah Geelani has already set the tone for how the Valley should respond to the all-party visit.
"The Indian parliamentary delegation is coming to Kashmir after passing a resolution that Kashmir an integral part of India. Therefore this delegation neither has the mandate nor the intention to resolve the dispute of Jammu and Kashmir," Geelani said in a statement.
"We suggest to all stakeholders to refrain from engaging in this meaningless exercise of meeting this delegation."
The not-so-implicit message in the statement has been received by everybody from the rival separatist factions to the civil society groups.
Now almost all the prominent organisations have decided not to meet the visiting delegation. On Thursday, the heads of more than a dozen trading groups held a meeting in Srinagar and decided against meeting the delegation.
They include Kashmir Chamber of Commerce and Industry, Federation Chamber of Industry Kashmir, Kashmir Economic Alliance, Kashmir Traders and Manufacturers Federation, Kashmir Hotel and Restaurant Owners Federation, Tourism Alliance, Kashmir Houseboat Owners Association, Beopar Mandals, All Kashmir Transport Welfare Association, J&K Contractors' Coordination Committee, All Industrial Estate Association, Travel Agents Society of Kashmir, Urban Travel Agents Association, and some others.
"Meeting the visiting delegation would be nothing but a foolish exercise and a photo session. This will only rub salt into the wounds of Kashmiris who are protesting on the streets and braving bullets and pellets for the resolution of Kashmir," said Muhammad Yaseen Khan, the chairman of the Kashmir Economic Alliance.
Mushtaq Ahmad Wani, head of Kashmir Chamber of Commerce and Industry,
echoed similar views. "The all-party delegations have visited Kashmir thrice in the past two decades. First, in the nineties and then in 2008 and 2010. What changed on the ground because of them? Nothing. These are only sightseeing trips. Meeting the delegation will only discredit us and resolve nothing," Wani said.
Wani's fears are not misplaced. After Geelani's warning, interactions with the All Party Delegation have been stigmatised and carry the risk of a social boycott.
Earlier in the unrest, when Kashmir Economic Chief Yasin Khan met the Chief Minister Mehbooba Mufti as part of a civil society group, he invited shouts of "sell-out" from fellow traders and was nearly lynched by a mob when he went to visit the injured at Srinagar's SMHS hospital.
No selling out
Fearful of being branded as collaborators, even the organisations from the minority communities have decided to boycott the delegation. One such organisation is All Party Sikh Coordination Committee.

"Home Minister visited Kashmir twice during the ongoing unrest and promised a ban on pellet guns but he has failed to keep even this promise. The forces are now using pellet guns more randomly and more than before," the committee's chairman Jagmohan Singh Raina said.

On the other hand, the jailed moderate Hurriyat Chairman Mirwaiz Umar Farooq and the JKLF supremo Yasin Malik have reportedly given a carte blanche to Geelani to take decisions on their behalf.

"

You can issue protest calendar on your own and we support it completely," the two leaders are reported to have communicated to Geelani.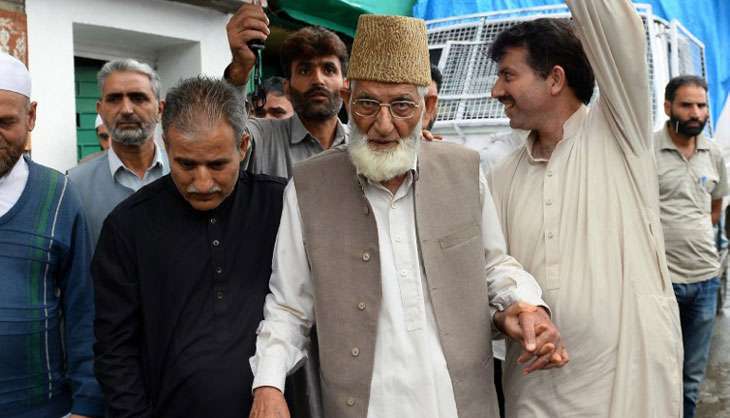 Chairman of hardline faction of the All Parties Hurriyat Conference (APHC), Syed Ali Geelani leaves his home in Srinagar on 26 August 2016 (AFP Photo/Sajjad Hussain)

This has not only made Geelani, the sole leader in charge of the current unrest but also drastically reduced the chances of the visiting delegation to do anything meaningful in Kashmir.

Unless they choose to step out of protocol and call on separatists like Mirwaiz and Malik in jail and in the case of Geelani, at his residence, the members will be reduced to meeting anonymous and insignificant organisations and individuals which will hardly change anything on the ground.

"Centre wants to talk to all the stakeholders in Kashmir. The real stakeholders are those who can influence the situation and make a difference. And in Kashmir, currently this influence is wielded only by separatist groups," says the political analyst Dr Gull Wani.

"

If you get an all-party delegation to Kashmir and end up talking to shikarawallas, you better not come."
Mehbooba's attempt
Mehbooba Mufti's wrote a letter to separatists in Kashmir, urging them to talk to the visiting all-party delegation on Sunday. The text of the letter is as follows:
Assalam-u-Alaikum!
All of us are deeply concerned, albeit in our own way, about the existing situation in the Valley. Notwithstanding the fact that you and I have different and divergent political ideologies, I have no doubt that all of us have the best interest of the people of J&K in mind.
True, our politics and programmes are at variance with each other, but our concerns for our people and society in general, and the future of our youth, in particular, should not be any different.
As such, I write to you in my capacity as the President of the J&K Peoples Democratic Party and request you to take the lead and engage with the All Party Delegation of Parliamentarians visiting the state tomorrow. This will be the start of a credible and meaningful political dialogue and resolution process to end the stalemate.
Cutting across party lines and political positions, the country's political leadership has reached out and it is for us to collectively lend it credence and credibility.
All of us, be it the mainstream political parties or political groups with a separatist agenda, voice the urges and aspirations of our people, as we understand those, and seek a resolution of the problems as we see them from our own perspectives.
My party has always believed that the Hurriyat Conference is a stakeholder in the peace, resolution and prosperity of the state. Indeed, right in the beginning in our Party's founding declaration we stood for dialogue with all stakeholders as the only way forward.
When we formed an alliance with the Congress Party, the cornerstone of our Common Minimum Program was dialogue with parties of all ideological hues. This was later followed by an unconditional dialogue, under the leadership of the then Prime Minster Shri Atal Behari Vajpayee, with Deputy Prime Minster, Shri L K Advani.
In the manifesto of our Party for the last Parliamentary Election, it was clearly mentioned that PDP will seek the resolution of the issue taking Hurriyat Conference on board. The same was reiterated in the manifesto our assembly election.
Indeed, even in the 'Agenda of Alliance', which is the basis of our government formation with our alliance partners, the Bharatiya Janata Party, it has been made clear that the State Government will create conditions to facilitate resolution of all issues and will help initiate a sustained and meaningful dialogue with all the stakeholders, including all political groups in J&K irrespective of their ideological views and predilections to build a broad-based consensus on resolution of all outstanding issues of J&K.
To convert our conviction and commitment of a peaceful and prosperous J&K into reality, it is important that you share your thoughts and beliefs with this distinguished group who represent the people of India and not only the Government of India.
I do hope that you will give this suggestion of mine a thought and indicate a time and place of your convenience for an exchange of ideas with the delegation.
Wasalam,
Mehbooba Mufti
President
It remains to be seen if the Valley ignores her appeal entirely and sticks to the boycott.
Edited by Jhinuk Sen
Also read: Kashmir: These 12 statements show Mehbooba & PDP have no idea what to do
Also read: Mehbooba's sole priority is BJP's goodwill. Kashmir be damned
Also read: J&K Opposition reminds Modi of Atal: Will next Mann ki Baat be on Kashmir?
Also read: Today's Nero plays drums: How Delhi failed Kashmir, yet again