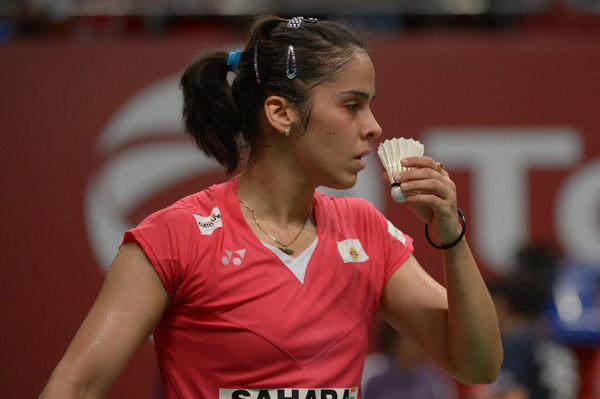 Defending champion Saina Nehwal sailed into the semifinals of the USD 700,000 China Open Super Series Premier after she saw off Japan's Nozomi Okuhara in straight games in Fuzhou on 13 November.
A relaxed Saina didn't break a sweat and her cool demeanour helped her to stave off the challenge from the World No. 10, notching up a comfortable 21-16, 21-13 win in the women's singles quarterfinals that lasted 42 minutes.
The top seeded Indian has set up a semifinal clash with 2011 World Champion and 2012 London Olympics silver medallist Yihan Wang, one of Saina's toughest rivals, who has beaten her nine times.
However, Saina will take heart from the fact that she has beaten the Chinese twice this year at the All England Championship and World Championship.
Coming into the match with a 3-0 record, Saina showed her class as she played a controlled game, engaging in long rallies and winning the points with her superior strokes at the Haixia Olympic Sports Centre.
Clad in a pink tee, Saina went about her business with consummate ease and even though Okuhara surged ahead to a 5-2 lead early on, she remained unaffected. Saina rode on her sharp and deceptive strokes to make it 5-5 and then led 8-6.
Okuhara twice hit long as Saina led 11-8 at the break.
The World No. 2 Indian continued to lead after the interval, exploiting the gaps left by Okuhara but once few of her strokes went wide or got buried at nets she admonished herself for those errors while playing within herself.
The Indian finally sealed the first game with a cross court drop and the Japanese had no clue.
In the second game, Okuhara once again engaged Saina in rallies but the Japanese didn't have enough power in her strokes to trouble the Indian. She won a point here and there by pushing the shuttle at the back, but Saina was always a step ahead.
The Indian waited for her rival to commit the errors. She led 11-3 when Okuhara hit a couple of shots wide and long at the break.
After the break, Okuhara gathered a few points when Saina hit outside and made some wrong line judgement call. But Saina didn't panic and kept increasing the gap riding on the Japanese' errors - who in desperstion hit plenty of shots outside and at net.
In the end, Saina came up with a controlled push at the nets, which Okuhara had no clue to move to 20-14 and then she closed out the match with another deceptive low return at the net to seal a place in the semifinals.
-PTI