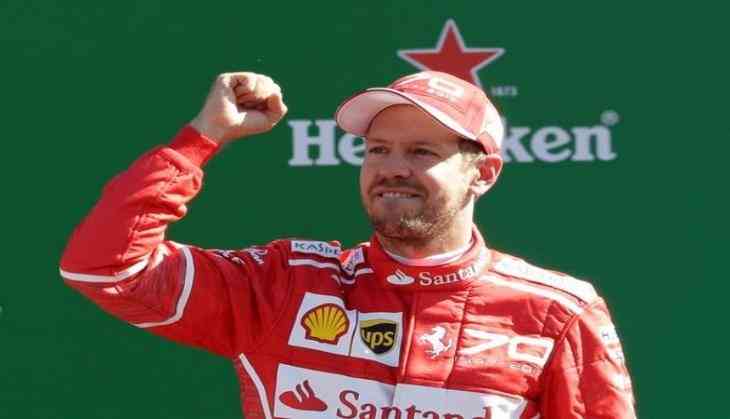 Sebastian Vettel complained that Formula One's red flag rules are wrong and need more common sense applied after he was handed a three-place grid penalty on Friday.
The penalty, for speeding while red flags were waved, was consistent with other drivers' penalties this year, but left Vettel frustrated and dented his hopes of stopping Lewis Hamilton clinching his fifth world title this weekend.
The Ferrari ace was reported to the stewards for not slowing sufficiently when the rain-hit opening practice was red-flagged after Charles Leclerc had brought gravel back on the circuit following a spin.
Vettel said he slowed enough to respect the situation, adding that he felt unhappy at the use of precise delta times.
"There should be common sense with the rules that we have," he said. "Lining out 27.7 seconds precisely, as not complying with the rules, I think is wrong.
"I think I slowed down, I had a good look around at what was going on. The rules are clear -- so we know.
"It is the first time we had this in the wet, where the target is a lot slower so, literally, you have to stop to 40-50 kph to bring down the delta, which probably I should do next time.
"But, in my opinion, that is not the right thing. If there is a car right behind you, it might run into you.... But it is more important you don't get a penalty." Vettel added that he was disappointed with his and Ferrari's performance on a day when Hamilton and Mercedes eased to the fastest times in both wet sessions.
"We had enough laps and it is clear that we were not competitive," he said. "We are missing quite a big chunk of performance." There was much support for Vettel in the paddock with Red Bull boss Christian Horner leading criticism of the red flag rule.
"It is a rubbish rule, but they have got to have consistency because otherwise it makes a little bit of a farce of all the regulations if you have a penalty for one race, but not at another," he said.
"But it is not a good regulation. If a driver commits a crime like that, speeding under a red flag, the biggest thing that will hurt the driver is fining him. "Give him a penalty, a wrap on the knuckles, a fine or something and give the money to charity. To give him a three-place penalty... It affects the race, affects qualifying and it is not a good penalty.
-PTI