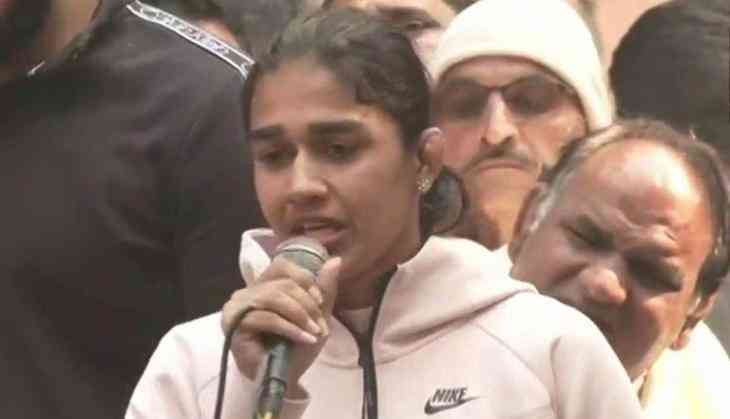 Babita Phogat meets protesting wrestlers.
Champion wrestler and BJP leader Babita Phogat on Thursday arrived at the protest site at Jantar Mantar in Delhi where wrestlers continued their sit-in protest for the second day demanding action against the Wrestling Federation of India (WFI) chief and other officials against alleged sexual exploitation of several athletes.
"I have assured them that the government is with them. I will try that their issues are resolved today," Babita Phogat said after addressing the gathering.
Babita who is a deputy director in the Haryana Sports and Youth Affairs Department and a former wrestler had earlier tweeted, "I stand with all my fellow players in this matter of wrestling. I assure all of you that I will work to raise this issue with the government at every level, and the future will be decided the way players feel right."
Olympian and 2022 Commonwealth Games gold medalist Bajrang Punia said, "Babita Phogat has come from the government's side for mediation. We will speak with her and then give more details."
He said that the wrestlers are fighting for their honour and right and added if they can fight for the country then they can also fight for their rights.
Wrestlers Vinesh Phogat, Sakshee Malikkh, Punia among others have been sitting on a silent protest at Jantar Mantar for the second day today.
"If we can fight for our country, then we can also fight for our rights. First of all, I thank all the players who have come here. And the statement that was given yesterday that only 3 per cent players are sitting here, but according to me all the players are here. You can imagine how strong the players are. And we raised our voice for our rights and are not going to bow down when we do not win," Punia said.
"We wish that someday if any child comes in wrestling then he should not practice under some pressure," Punia added.
Notably, Vinesh Phogat had previously alleged that coaches who are favourites of the Wrestling Federation of India (WFI) misbehave with women and harass them. She also accused the wrestling federation chief Brij Bhushan Sharan Singh of sexually harassing girls and calling her a 'khota sikka' after her defeat at the Tokyo Olympics 2020.
Vinesh , the first Indian woman wrestler to win gold in both Commonwealth and Asian Games, alleged, "Coaches are harassing women and some coaches, who are favourites of the Federation, misbehave with women coaches as well. They sexually harass girls. The WFI president has sexually harassed many girls."
"After my defeat in the Tokyo Olympics, the WFI president called me a 'khota sikka'. The Federation mentally tortured me. I would entertain thoughts of ending my life every day. If anything happens to any wrestler, the WFI president will be to blame," she added.
On Wednesday, ace grappler Bajrang Punia and nearly a dozen wrestlers began their protest against the WFI at the Jantar Mantar in the national capital.
Also, shortly after Olympians and star wrestlers Sakshee Malikkh, Vinesh Phogat and Bajrang Punia made sensational claims against WFI officials and coaches, accusing them of harassment, Delhi Commission for Women (DCW) chairperson Swati Maliwal issued a notice to Delhi police and the Union Sports ministry on the matter.
Punia took to Twitter and wrote, "The federation's job is to support the players, take care of their sporting needs. If there is a problem, it has to be solved. But what to do if the federation itself creates the problem? Now we have to fight, we will not back down."
India's top wrestlers Vinesh Phogat, Sakshi Malik, Sangeeta Phogat, Sonam Malik and Anshu were seen in a picture posted by Bajrang Punia on his Twitter account.
"Sportspersons work hard to win medals for the country, but the Federation has done nothing but let us down. Players are being harassed by imposing arbitrary laws," Sakshee Malikkh tweeted.
The Wrestling Federation of India is headed by Brij Bushan Singh - a Lok Sabha MP from the country's ruling BJP, as the President.
Singh on Wednesday said wrestlers, who made allegations of sexual harassment against coaches, should have approached the Federation with their names earlier.
The WFI president said that 97 per cent of wrestlers are with the BFI and those protesting were pressured into it.
He claimed that star wrestler Vinesh Phogat had demanded a few days back that the chief coach should be changed, but coaches cannot be changed on the whims of a player.
(ANI)
Also Read: Wrestler Divya Kakran defends WFI chief Brij Bhushan, says 'never experienced, witnessed instances of sexual harassment'