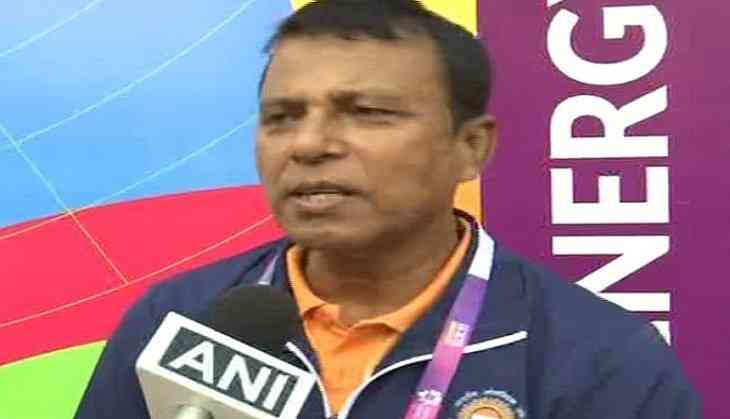 Ace Indian gymnast Dipa Karmakar's coach Bisheshwar Nandi, who is in Jakarta for the 18th edition of the Asian Games has expressed confidence that the former would give her best performance, while saying that their first aim is to qualify for the finals of the women's artistic gymnastics event in the quadrennial tournament.
Speaking to ANI, Nandi heaped praises on the Sports Authority of India (SAI) for saving gymnastics in the country.
Talking on Dipa's preparation for the Asian Games, he elucidated, "Dipa's full training began 15-20 days after the Commonwealth Games (in Gold Coast, Australia) ended. I taught her a new vault. She is perfect in 5.4 value. As she has just recovered from her (knee) injury, I decided that I will train her the Produnova fault by the end of this year."
Emphasising on the challenges Dipa faced, following her career-threatening knee injury that she sustained two years ago, Nandi said that he did not pressurise the former.
He continued, "I did not give her any pressure while training her. Our first aim is to reach the finals. She is confident of doing well here (Asian Games). Dipa is fully confident and she said that 'I will do what you have taught me'. She is making a comeback in such a big event after two years. I have come here with high hopes."
Commenting on the Produnova vault, also known as the 'vault of death', Nandi went on to say that he did not want to take any risk and asserted that he would not dump the routine.
On July 8, the 25-year-old gymnast from Tripura had bagged the gold medal in the vault event of FIG Artistic Gymnastics World Challenge Cup in Turkey. Dipa, who had acquired the fourth spot in the vault event of the 2016 Rio Olympics, scored 14.150 to secure the top position in the tournament.
The gymnast was out of action after her impressive performance in the Rio Olympics because of an Anterior Cruciate Ligament injury.
The Asian Games, which began on Saturday, will continue till September 2 in the Indonesian cities of Jakarta and Palembang. India would see participation from 572 athletes in 36 different sports categories in the Asiad event.
(ANI)