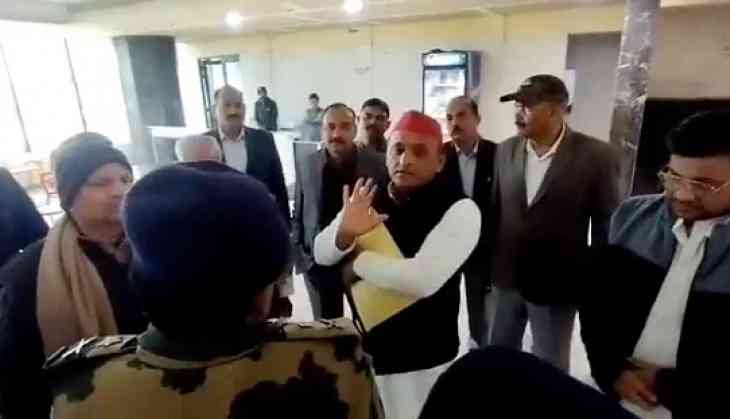 Akhilesh Yadav in Lucknow
Samajwadi Party (SP) chief Akhilesh Yadav, along with other party leaders, reached Uttar Pradesh Police Headquarters in Lucknow on January 8.
Yadav has reached the police headquarters in 'protest' against the arrest of Manish Jagan Agarwal, a worker of the SP media cell's Twitter handle.
Amid the teeth-tethering cold, when police officials offered the Samajwadi Party chief a cup of hot tea, he refused it by saying, 'you can poison us'.
In the video tweeted by the news agency ANI, Akhilesh Yadav can be seen having a conversation with the police officials present at the headquarters. When the cops offered him tea, he said, "We will not drink tea here. We will bring ours (tea), and will take your cup. We can't drink if you poison us then? We don't trust you (the police). We will get our tea from outside."
Watch here.
#WATCH समाजवादी पार्टी प्रमुख अखिलेश यादव ने पुलिस मुख्यालय में चाय पीने से इंकार किया।

उन्होंने कहा,"हम यहां की चाय नहीं पियेंगे। हम अपनी (चाय) लाएंगे, कप आपका ले लेंगे। हम नहीं पी सकते, ज़हर दे दोगे तो? हमें भरोसा नहीं। हम बाहर से मंगा लेंगे।"

(वीडियो सोर्स: समाजवादी पार्टी) pic.twitter.com/zwlyMp8Q82

— ANI_HindiNews (@AHindinews) January 8, 2023
Recently, the Samajwadi Party's official Twitter handle posted a video of Yadav sitting in the hall of police headquarters, complaining that no responsible officer was present to meet him.
पुलिस मुख्यालय लखनऊ में मौजूद माननीय राष्ट्रीय अध्यक्ष श्री अखिलेश यादव जी, अब भी कोई जिम्मेदार व्यक्ति उपस्थित नहीं। @Uppolice pic.twitter.com/kRugHcpUms

— Samajwadi Party (@samajwadiparty) January 8, 2023
Meanwhile, Samajwadi Party workers gathered outside the Police Headquarters and started protesting against the police over the arrest of SP media cell handler Manish Jagan Agarwal.
Uttar Pradesh | Samajwadi Party workers protest outside the Police Headquarters in Lucknow over the arrest of SP media cell worker Manish Jagan Agarwal

SP chief Akhilesh Yadav is also present at Police Headquarters. pic.twitter.com/DnfD8aFP0P

— ANI UP/Uttarakhand (@ANINewsUP) January 8, 2023
Samajwadi Party's official Twitter handle shared a video clip showing newspaper cuttings of recent crime incidents that happened in Uttar Pradesh. The caption read, "BJP government in the state, Crime is on the rise!."
प्रदेश में भाजपा की सरकार,
अपराध बढ़ रहा लगातार! pic.twitter.com/wWAVKmVhF0

— Samajwadi Party (@samajwadiparty) January 8, 2023
The Lucknow police arrested Manish Jagan Agarwal from Hazratganj early in the morning. Agarwal was arrested after three cases were registered against him at Hazratganj police station, allegedly for making objectionable remarks on Twitter through the party's social media handle.
Also Watch: Glipmses of Internatinal Kite Festival 2023