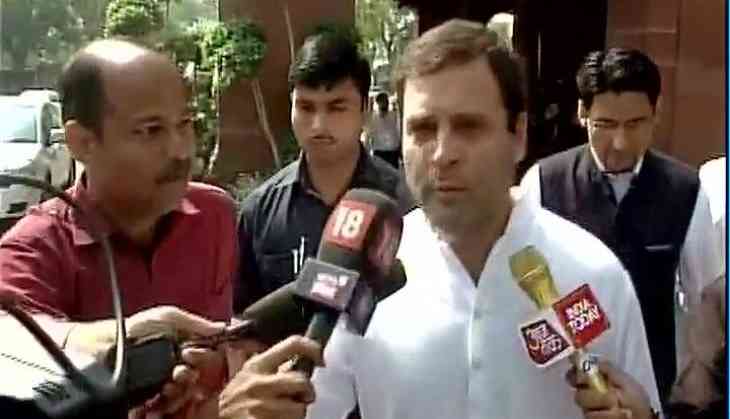 Why has PM Modi not given relief to people who have built this country: Rahul Gandhi (ANI)
Congress vice-president Rahul Gandhi on 31 March dubbed the ruling NDA regime as anti-farmer and asked Prime Minister Narendra Modi as to why he is not giving relief to the people who have built the country.

Joining the Tamil Nadu farmers in their protest at Jantar Mantar for a drought relief package from the Centre, Rahul said a pro-rich government is not good for the nation.

"This government is anti-farmer. Over the last three years the Government of India has given debt relief of Rs. 1 lakh to the richest people of this country. I don't understand why this discrimination is taking place. Why Prime Minister Narendra Modi has given debt relief to richest people in the country, and not to the people (farmers) who have built this country.

He further said people of Tamil Nadu deserve to be heard by the Prime Minister and the fact that the latter is disrespecting farmers is not acceptable to the people of India.

"There are three demands drought relief, waive of loans and support to the farmers. Solution needs to be worked out. This is completely disrespectful to the people of Tamil Nadu," he added.

Earlier, Congress leader Manishankar Aiyar and Dravida Munnetra Kazhagam (DMK) MP Kanimozhi joined the farmers, who have been staging a protest at the Jantar Mantar here for the past 18 days.

"They are protesting for more than 18 days demanding loan waiver. Crops have dried and there is no water. Tamil Nadu has not seen such a drought. The Central Government has not responded so far. The farmers are not being assured from the Centre," Kanimozhi told the media here.

The farmers have been demanding that their loans from nationalised banks be forgiven, fair and just prices be set for their produce besides realistic solutions to address water scarcity in the state.

All India Anna Dravida Munnetra Kazhagham (AIADMK) member and Lok Sabha Deputy Speaker M. Thambidurai had earlier this week visited the agitating farmers at the Jantar Mantar and assured them that their grievances would be placed before Prime Minister Narendra Modi at the earliest.
-ANI