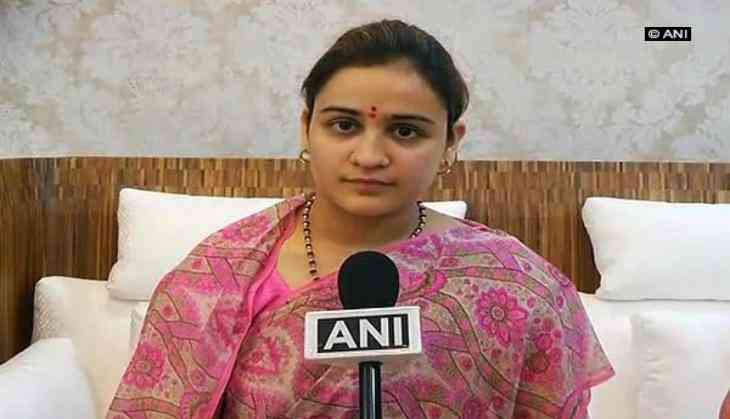 After a major RTI revelation claimed that nearly 86 percent of the grant sanctioned by the then Samajwadi Party government in Uttar Pradesh for cow welfare was given to her NGO, Mulayam Singh's daughter-in-law Aparna Yadav on Monday asked what was so wrong if an "active" NGO, doing "good work", is recognized.
Talking to ANI, Aparna said such an organisation should get 100 percent of such funds for good work.
"So what is wrong in it? If some organisation is doing good work for the welfare of animals, then why should it not be helped financially? They should in fact get 100 percent of the fund.this organisation is getting this kind of amount only because this is the only organisation that is functioning so much. There are approximately 463 or 462 Gau Shalas in Uttar Pradesh and the most active out of all these is Jeev Aashraya, and there is no second thought about it. Anyone can go there and have a check. I would also like to thank the people associated with it," she added.
Denying all allegations, Aparna said neither her husband nor she is involved in the money given to her organisation by the government.
"My husband or anyone is not involved in this money. I think it is very cheap of the people to put an allegation like this. RTI should not spread terrorism like this..people who are character assassinating and throwing stones at me, I will give them an answer," she added.
The Uttar Pradesh animal husbandry department granted nearly 86 percent to an NGO run by the former state chief minister Akhilesh Yadav's sister-in-law Aparna Yadav, according to an RTI reply.
The Uttar Pradesh Gau Seva Ayog allocated Rs 8.35 crore, nearly 86.4 per cent of its total budget of Rs 9.66 crore to Jeev Aashraya, an animal rescue organisation, between 2012 and 2017, when Akhilesh Yadav government was in power.
Aparna is the wife of Prateek Yadav, the step-brother of Akhilesh Yadav. Her NGO runs a gaushala at Amausi in Lucknow district.
Talking to ANI, RTI activist Nutan Thakur said the lease of land given to Aparna Yadav's organisation, initially for three years, was later extended to five years during Samajwadi Party's rule.
"This property was given to Jeev Aashraya on lease during SP government's rule. The validity of lease was extended by 5 years. 86% of fund received for Gau Seva was given to Aparna Yadav's organization. Aparna Yadav portrayed that she was running the organization with her own money but in fact it was the government's money. Political parties misuse public money for their own benefits.," she added.
-ANI