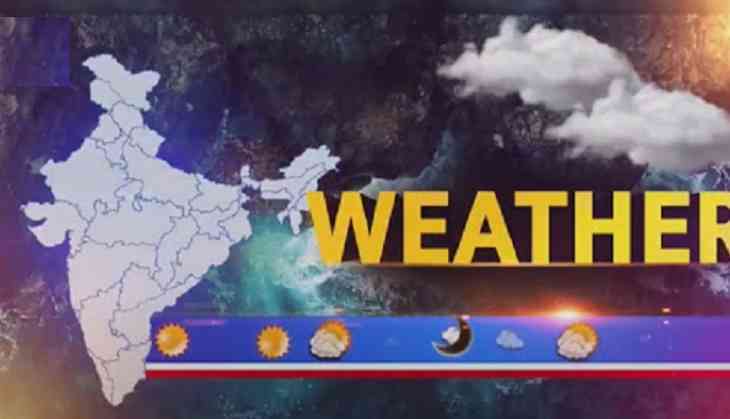 The India Meteorological Department (IMD) has predicted a fresh spell of rainfall and thunderstorm in Northwest India, including Delhi, Haryana, Punjab and Rajasthan from the night of March 29.
It has also forecasted rainfall and thunderstorm activities in Bihar, Jharkhand, Odisha, West Bengal, Sikkim and parts of Northwest India from March 30 to April 1.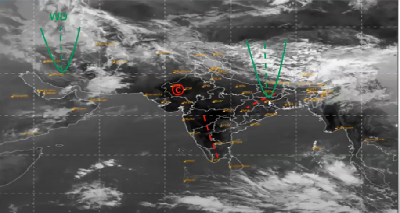 Daytime Temperature Forecast
Northwest India: The maximum temperature is expected to rise by 2-4 degrees Celsius in Delhi, Haryana, Punjab, and Rajasthan in the next two days and fall by 3-5 degrees Celsius in the subsequent three days.
Central India: No significant changes are likely in the daytime temperature in Madhya Pradesh and Chhattisgarh in the next three days.
Rest Parts: No significant change is likely in maximum temperature for the next 5 days.
Heat Weave Warning
According to the weather department, there is no possibility of heat weave in the country for the next 5 days due to the current western disturbance.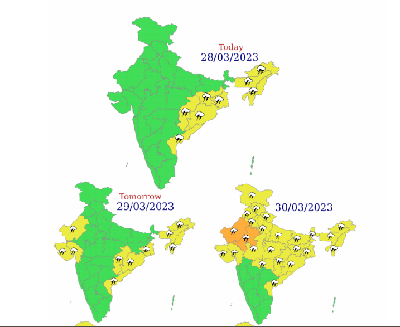 Weather Observed In The Last 24 Hours
Light/moderate rain along with thundershowers were observed in parts of Arunachal Pradesh, Assam, Meghalaya, Nagaland, Manipur, Mizoram and in Tripura.
Rainfall also recorded in isolated places over Jammu and Kashmir, Ladakh, Himachal Pradesh, Uttarakhand, East Madhya Pradesh, Chhattisgarh, Jharkhand, West Bengal, Sikkim, Odisha, Telangana, Tamil Nadu, Puducherry and in Kerala.
Heavy showers witnessed in isolated parts of Arunachal Pradesh.
Hailstorm and squall observed in isolated parts of Assam.
Also Read: Weather: Rainfall expected in Delhi, Punjab and Rajasthan on March 30, 31