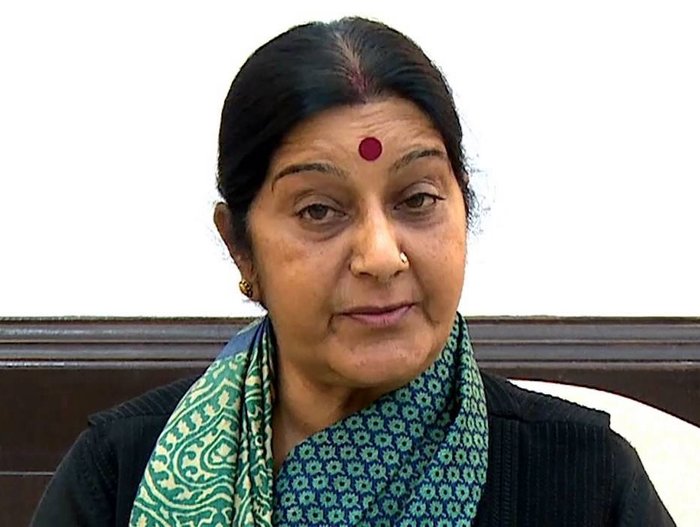 External Affairs Minister Sushma Swaraj tonight said that India will bring back Geeta, a deaf and mute Indian girl stuck in Pakistan for more than a decade, after Indian High Commissioner TCA Raghavan along with his wife met the girl in Karachi.
"Indian High Commissioner in Pakistan Mr Raghavan and Mrs Raghavan met Geeta in Karachi today. Our High Commissioner believes that Geeta is an Indian. We will bring Geeta back to India," Swaraj tweeted.
She also noted that the process of bringing back Geeta to India will require some formalities which will be completed.
"We are grateful to all individuals and institutions in Pakistan who looked after Geeta," she added.
Earlier, Raghavan and his wife today met Geeta and assured her to locate her family as soon as possible.
Swaraj had directed the Indian High Commission in Islamabad to meet with the girl and resolve the issue.
"The purpose of my visit to this centre is to find out all details about Geeta's case and background and try to locate her family and relatives as soon as possible," Raghavan told reporters at the Edhi trust shelter home in Karachi.
"The fact that I have come here is itself a message of peace from our government," he said after meeting Geeta.
Geeta, 23, is believed to have mistakenly crossed into Pakistani territory as a child. She was 7-8 years old when she was found by the Pakistan Rangers 15 years ago from Lahore railway station, according to reports from Pakistan.
Raghavan later stayed at the Edhi shelter home in the old city area of Mithadar and spent time with Geeta, who conversed with him and his wife using sign language.
Geeta has got a fresh lease of hope mainly due to the runaway success of the Salman Khan-starrer 'Bhajrangi Bhaijan'.
Salman's movie revolves around a speech-impaired girl from Pakistan who finds herself lost in India with no way to return her home. An Indian man undertakes the task and reunites her with her family in Pakistan.
-PTI