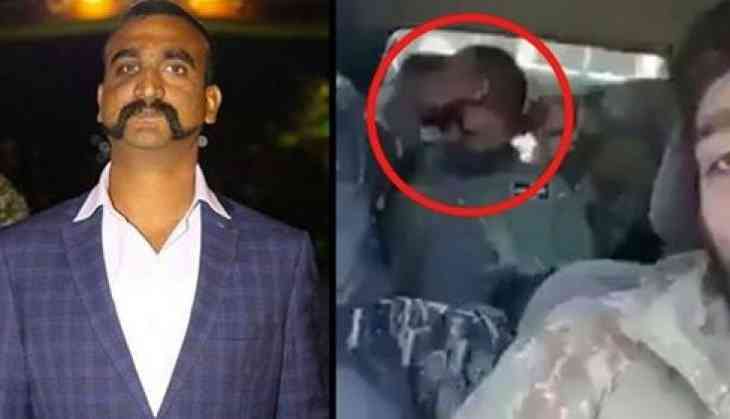 Indian Air Force (IAF) Wing Commander Abhinandan Varthaman captured by Pakistan on Wednesday returned to his motherland (India) on late Friday with all his pride nearly 60 hours. IAF pilot Abhinandan was dressed in navy blue blazers, white shirt and grey trousers. However, there was a black spot on his right eye but he smiled when he crossed into India through the Attari-Wagah border.
While Abhinandan was in Pakistan's captivity, he showed the exemplary amount of courage and bravery. Pakistan released several videos of Abhinandan, among those in one video IAF pilot, can be seen trolling Pakistan Army.
In the video, Abhinandan can be seen talking Pakistani cops in their jeep. The video was shared by a journalist, Shiv Aroor on Twitter, which was previously uploaded by the Pakistani troops.
In the video, Pakistani soldier had asked blindfolded WC Abhinandan his views about the Pakistani army. With his good sense of humour, Abhinandan trolled them with a sarcastic reply by praising them.
Man: So, Wing Commander Abhi?
Wg Cmdr Abhinandan (loud and clear): Yes, Sir!
Man: What are your views about the Pak army?
Wg Cmdr Abhinandan: I hold the Pak army in very high regards and I was hoping there would be a Pak army officer would get me… I know the Pakistani army is also of soldiers… that is why the first question I asked you was 'are you from the regular army'?
Here, have a look at the video:
"That's why I asked if you are from the REGULAR army".

Even in the making of a bleeding, blind-folded forced propaganda video, Wing Cdr Abhinandan trolled these chaps on Pak terror. 🤣🤣🤣 pic.twitter.com/yH1KELVWGa

— Shiv Aroor (@ShivAroor) March 4, 2019
IAF pilot Abhinandan Varthaman was shot down while flying a MiG-21 fighter in Ariel fight on Wednesday with Pakistani aircraft and captured.
Huge crowds had waited for hours to welcome their hero Abhinandan at the Attari-Wagah crossing, holding flags, garlands and dancing and cheering. The Wing Commander's homecoming has inspired many hashtags on social media.
Also read: Post Pulwama, Navy chief Admiral Lanba warns terrorists trained for 'sea-borne' attack