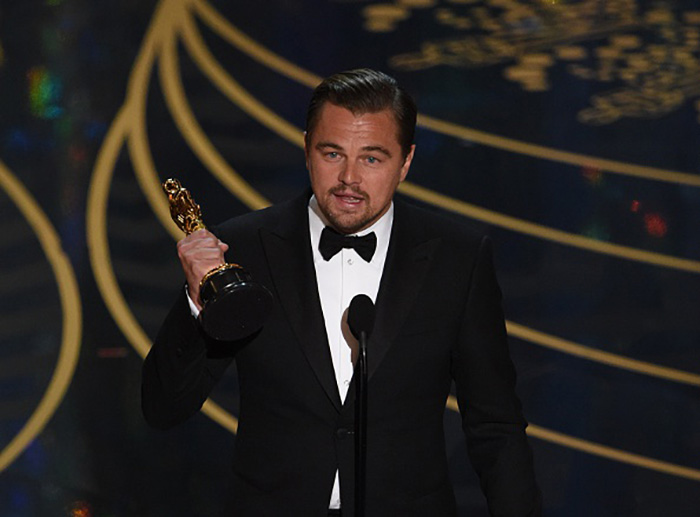 After a dry spell of over two decades, Leonardo DiCaprio finally got his hands on the coveted golden Oscar. With countless fans and fellow actors rooting for him to win Best Actor for his performance in The Revenant, Leonardo did not dissappoint when he took the stage to accept the award.
The 41-year-old versatile actor has never missed a chance to voice his concerns against climate change - a subject close to his heart. And what better platform than the opulent 88th Academy Awards to do so?
Read- #Oscars2016: Asif Kapadia who?
Leo started his Oscar acceptance speech with a reference to The Revenant where he essayed the character of Hugh Glass - a frontiersman who survives the worst of the wilderness to seek revenge for the death of his son."Making The Revenant was about man's relationship to the natural," said Leo. "The world which we collectively felt in 2015, as the hottest year recorded in the history," he said, making an effortless transition into the subject of environmental preservation.
Leo told the audience how his team had to travel to the southern tip of the planet to find snow.Urging people to join hands against climate change Leo said:
"We need to work together and stop procrastinating. We need to support the leaders around the world who do not speak for big polluter and corporations but speak for humanity, for the indigenous people, for the billions under privileged people who will be most effected by the climate, for our children's children."
The icing on the cake was of course signing-off remark. Leo closed by saying- "Let us not take this planet for granted - I do not take tonight for granted."
More in Catch:
Objectionable slogans and sedition are different things: Tewari on #JNUrow
It's Official: Valentino, Dior and Versace are Oscar red carpet favourites
#NotesForMrJaitley 12: here's what environment needs from Budget 2016
Union Budget 2016: No change in income tax slab, fiscal deficit target kept at 3.5 %