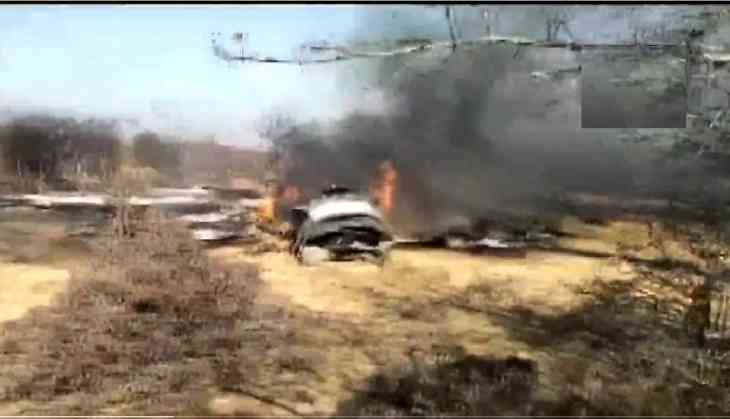 In a tragic incident, two fighter jets of Indian Air Force (IAF) - Sukhoi-30 and Mirage 2000 – crashed near Madhya Pradesh's Morena on January 28, ANI reported citing defence sources. Search and rescue operation has been launched.
Defence Sources told news agency ANI that the Su-30 fighter jet had two pilots while Mirage 2000 had one pilot during the crash.
Two pilots have been rescued by the rescue team and an IAF chopper is reaching the location of the third pilot, ANI reported.
watch here.
#WATCH | Wreckage seen. A Sukhoi-30 and Mirage 2000 aircraft crashed near Morena, Madhya Pradesh. Search and rescue operations launched. The two aircraft had taken off from the Gwalior air base where an exercise was going on. pic.twitter.com/xqCJ2autOe

— ANI (@ANI) January 28, 2023
The Indian Air Force will establish a court of inquiry to determine if a mid-air collision or any other cause was behind the incident.
Both the aircrafts had taken off from the Gwalior Air Base, where the IAF is conducting an exercise.
Meanwhile, wreckage of jets was also seen in Rajasthan's Bharatpur.
#WATCH | Rajasthan, Bharatpur | Wreckage of jet seen. Earlier report as confirmed by Bharatpur District Collector Alok Ranjan said charter jet, however, defence sources confirm IAF jets have crashed in the vicinity. Therefore, more details awaited. pic.twitter.com/005oPmUp6Z

— ANI (@ANI) January 28, 2023
Defence Minister Rajnath Singh has been briefed by the Indian Air Force Chief about the crash.
"Raksha Mantri Shri Rajnath Singh was briefed by the Chief of Air Staff on the crash of two aircraft of the Indian Air Force. Raksha Mantri enquired about the well-being of the IAF pilots and is monitoring the developments closely," Defence Ministry sources told ANI.
More details are awaited.