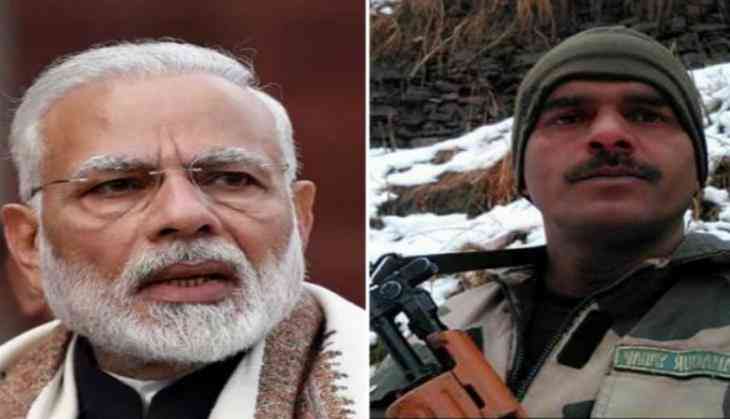 Tej Bahadur Yadav, a former Border Security Force (BSF) trooper, who dared to take on Prime Minister Narendra Modi from Varanasi in the ongoing national poll has landed in a controversy after his sensational video has gone viral on the internet. Tej Bahadur's nomination as SP candidate from Varanasi has been rejected by the Election Commission.
In the viral, Tej Bahar can be heard saying that he could kill Prime Minister Narendra Modi if he gets Rs 50 crores to do the job. However, according to reports, the video is said to be two-year-old. Although CatchNews does not vouch for the authenticity of this viral video.
Soon after the video went viral on social media, Tej Bahadur admitted that he is in the clip and termed it as 'conspiracy' against him. Meanwhile, the BJP has slammed Tej Bahadur over his sensational video.
This is the man MahaGathBandhan pit against @narendramodi - He allegedly wants to have Modi killed! Recently PM alluded to this! If this is true, I'm shocked at the lack of outrage & media attention! Should there not be a probe into the veracity if video & conspiracy if any pic.twitter.com/1Coiz46TzX

— Shehzad Jai Hind (@Shehzad_Ind) May 6, 2019
Here are the excerpts of the conversation Tej Bahadur Yadav can be seen as having with some friends from the sensational video, reportedly Delhi Police personnel:
Tej Bahadur Yadav: Give me money and I will kill Modi.
Friend: You are okay with killing Modi?
Tej Bahadur Yadav: Give me Rs 50 crores.
Friend: 50 crores? You won't get that much money in India at least. Pakistan can give you Rs 50 crores.
Tej Bahadur Yadav: No, I won't do such a thing. I am loyal to my country.
Friend: But Modi is the Prime Minister of India.
Tej Bahadur Yadav: No, I won't be disloyal to my country. Money does not matter.
Friend: Why I asked you this question...is because you just said that you can kill Modi for Rs 50 crores.
Tej Bahadur Yadav: No, but not at the cost of my loyalty towards my country. Only if I am getting the money from an Indian.
Addressing a press conference, Bharatiya Janata Party MP GVL Narasimha Rao said that the party was stunned by the statements made by the Mahagathbandhan candidate. "He was drafted by the SP from Varanasi and his candidature has been nullified for various reasons. We can see on TV how he is telling a group of people that he is willing to hatch a plot to assassinate PM Modi for Rs 50 crore."
"Parties like Congress rallied behind such anti-social forces rather than the government is a matter of concern. The fact that he was sought to be drafted as a candidate by SP, it really stuns us. We condemn it, we expect all agencies to take note of this threat."
The Election Commission had on May 1 cancelled Tej Bahadur's nomination as SP candidate. Sacked BSF jawan has moved to the top court over the matter.
Also read: 'You are drenched in blood', Mamata Banerjee attacks PM Modi after 'expiry PM' jibe