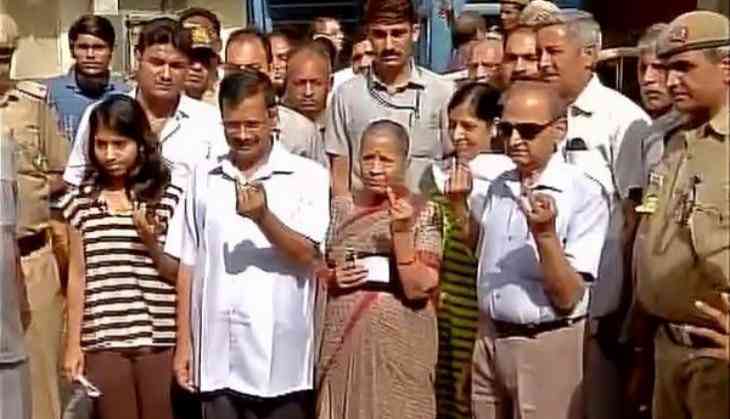 Vote in large numbers to make Delhi 'Dengue, Chikungunya free': Delhi CM (ANI)
In a yet another veiled attack on the Bharatiya Janata Party (BJP), Delhi Chief Minister Arvind Kejriwal on Sunday appealed the people to come out in large numbers and vote for a 'Dengue and Chikungunya free' Delhi.
After casting his vote at a polling booth in Road Transport Office in Civil Lines for the Municipal Corporation of Delhi (MCD) elections, Kejriwal said, 'I would appeal to the people of Delhi to vote in large numbers in order to make Delhi free from dengue and chikungunya.'
On Friday, the Aam Aadmi Party (AAP) Delhi convener Dilip Pandey said people of the national capital have an opportunity to vote for 'garbage free and Malaria, Chikungunya and Dengue free' Delhi.
Pandey said that the BJP has converted the MCDs into 'Most Corrupt Departments' in the world. He also challenged the saffron party to point out a single achievement of the MCDs during last 10 years.
Taking potshots at Kejriwal for his 'dengue-chikunguniya' remark, the BJP on Saturday said the former's statement reflects his frustration, adding that the AAP chief had no right to opine on other political parties.
'Kejriwal's statement reflects his frustration and disappointment. It seems like he has accepted his failure. The public has been giving the vote to the BJP for last ten years. Be it MCD by-elections, Goa, Punjab, Varanasi, Lok Sabha elections, Kejriwal government has lost all the elections. They do politics of tussle and abuse and I don't think this will bring development. He thinks people of Delhi are a fool,' BJP leader Vijay Goel told ANI.
Upping the ante on Kejriwal's assertion, BJP leader Shaina NC said the former should first get rid of the dengue and chikungunya that he has caused in Delhi and then opine on the BJP government.
'If he has no ideology and conviction to live up to his political manifesto, then I think he has no right to comment on other political parties,' she told ANI.
Kejriwal yesterday trained guns at the saffron party while saying that the people should hold themselves responsible for dengue and chikungunya outbreaks if they vote for the BJP in the MCD elections.
'If your children get dengue or chikungunya, then you yourself will be responsible for it because you voted for a party (BJP) that spreads mosquitoes that breed dengue or chikungunya,' Kejriwal had said. Meanwhile, the polling for the Municipal Corporation of Delhi (MCD) has begun.
The polling is being conducted for 272 wards of three MCD civic bodies and over 2,500 candidates are in the fray. Over 1.3 crore people are eligible to exercise their voting rights and of them, more than 1.1 lakh are first-time voters.
The civic polls will witness a triangular contest involving three major parties- the AAP, BJP and the Congress. Interestingly, None of the Above (NOTA) option has been made available for the first time in MCD elections.
The Delhi Election Commission has set up over 13,000 polling booths, out of which over 3,000 have been identified as sensitive while around 1,500 as hypersensitive. Nearly 57, 000 police personnel have been deployed to ensure free and fair polls in the national capital.
To avoid any untoward incident during the elections, the Delhi Government has ordered dry day to be observed in the national capital on the polling day.
-ANI