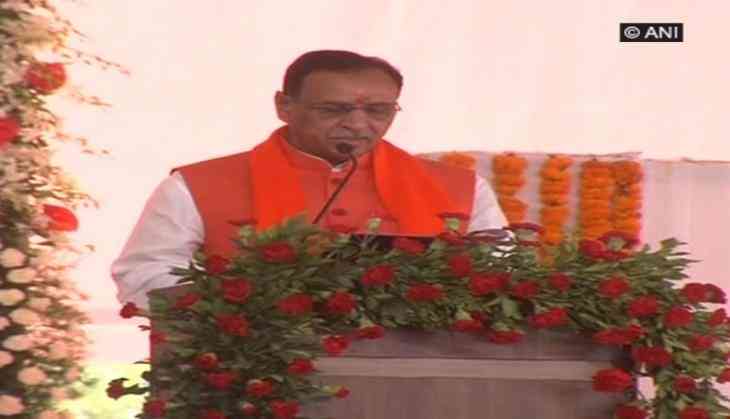 Bharatiya Janata Party (BJP) leader Vijay Rupani on 26 December was sworn-in as the chief minister of Gujarat, at the Gandhinagar Sachivalaya Ground here.
Nineteen other ministers, including Rupani's deputy Nitin Patel, also took the oath in the presence of Prime Minister Narendra Modi and BJP President Amit Shah.
The chief ministers of other BJP-ruled states - Uttar Pradesh CM Yogi Adityanath, Rajasthan CM Vasundhara Raje Scindia and Chhattisgarh CM Raman Singh, along with former Gujarat chief ministers - Keshubhai Patel and Shankersinh Vaghela, were also present at the ceremony.
The names of the cabinet ministers are: Nitinkumar Ratilal Patel, Bhupendrasinh Manubha Chudasama, Ranchhodbhai Chanabhai Faidu, Kaushikbhai Jamanadas Patel, Saurabh Patel, Vasava Ganpatsinh Vestabhai, Radadiya Jayeshbhai Vittalbhai, Dilipkumar Viraji Thakor and Ishwarbhai Ramabhai Parmer.
Leaders who took oath as ministers of state are: Pradipsinh Bhagvatsinh Jadeja, Patel Parbatbhai Savabhai, Jaydrathsinhji Parmer, Patkar Ramanlal Nanubhai, Parsottambhai Odhavjibhai Solanki, Ishwarsinh Thakorbhai Patel, Ahiur Vasanbhai Gopalbhai, Kishor Kanani (Kumar), Khabad Bachubhai Maganbhai, Dave Vaibhavari.
Other BJP leaders who touched down at the Ahmedabad Airport earlier in the day to attend the oath ceremony extended their wishes to Rupani.
"Vijay Rupani ji is becoming the chief minister of Gujarat. On this occasion, I congratulate him on behalf of the Haryana Government and the public of Haryana," Haryana Chief Minister Manohar Lal Khattar told reporters.
"For a consecutive sixth time, the BJP is forming government in Gujarat. I have come to congratulate and extend my wishes to Rupani ji. I am grateful to the public of Gujarat," Madhya Pradesh Chief Minister Shivraj Singh Chouhan said.
Earlier, Vijay Rupani and his wife Anjali visited Panchdev temple in Gandhinagar ahead of his swearing-in ceremony.
After BJP won the Gujarat Assembly election for the sixth time with a clear majority of 99 seats, 61-year-old Rupani was retained by the BJP's top brass to helm the affairs in the state.
Rupani had secured a comfortable win from Rajkot West seat by 1,31,586 votes, which is the largest constituency in the Saurashtra region.
Rupani, who succeeded Anandiben Patel last year, has also been the Minister for Transport, Water Supply, Labour and Employment in Gujarat state cabinet during Patel's tenure.
-ANI