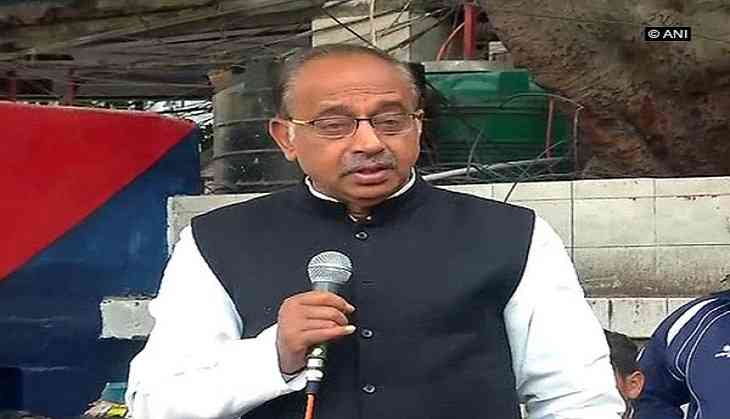 Union Minister Vijay Goel on Wednesday had a foot-in-mouth moment when he said that the poor civic conditions in Delhi's Sadar Bazar area are like that of a backward district of Uttar Pradesh.
Interestingly, Goel's, Bharatiya Janata Party (BJP) rules both the state of Uttar Pradesh and the parliamentary constituency of Sadar Bazar.
If that is not enough, Goel was addressing a gathering of old Delhi's traders and shopkeeper, who were protesting the ongoing sealing drive by BJP-led municipal corporations.
"Delhi ka haal dekha hai aapne? Taarein (cables and wires) jhool rahi hain, koi makaan upar jaa raha, koi neeche aa raha hai, aisa lagta hai kisi Uttar Pradesh ke pichde huye kasbe mein khade huye hain, yeh Sadar Delhi ki shaan tha! (Have you seen the condition of Delhi? Wires are swinging, houses are in bad condition. It seems like we are standing in some backward district (Kasba) of Uttar Pradesh. Sadar was the pride of Delhi)," the Union Minister said while addressing the gathering.
Goel, who represented the Sadar Bazar constituency in Lok Sabha from 1996 to 1998, clarified that he was not speaking on the behalf of his party.
The Minister further said that the politicians are using the sealing of shops as a tool for political advantage.
"The BJP blames AAP for this sealing drive. The AAP blames the BJP and the Congress blames on both the BJP and the Congress. Leaders have made the sealing matter a political issue," he said.
Hundreds of Delhi's businessmen have been affected due to massive sealing drive of, what authorities say, the residential properties being used for commercial purposes.
-ANI