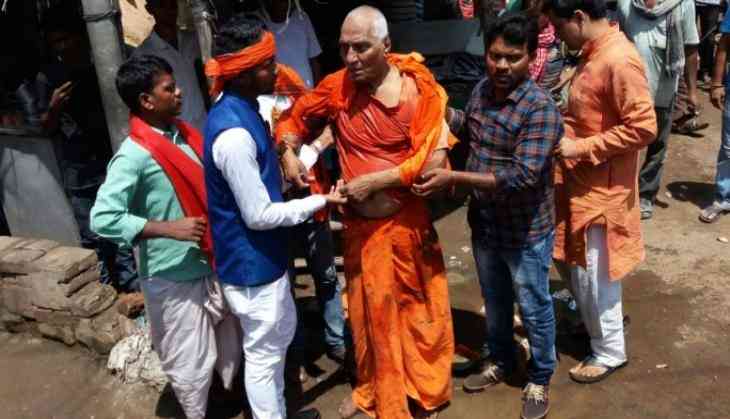 Social Activist Swami Agnivesh was brutally thrashed by BJP Yuva Morcha workers in Jharkhand today. The workers allegedly showed black flags and raised slogans against him. After the alleged attack, Swami Agnivesh said he is alive by God's grace. The matter came into the limelight after a video that captured the whole incident went viral on social media. The following attack on Swami Agnivesh took place while he was in Jharkhand to attend an event in Pakur, about 365 km from state capital Ranchi.
The alleged BJP workers who attacked him were chanting "Jai Sri Ram" as they thrashed the 80-year-old activist. "I am against any sort of violence. I am known as a peace-loving person. I don't know why I was attacked," Swami Agnivesh told NDTV. We have asked for an investigation, he said.
Activist Swami Agnivesh was thrashed, allegedly by BJP Yuva Morcha workers in Jharkhand's Pakur, earlier today. More details awaited. pic.twitter.com/59kqoV9uj4

— ANI (@ANI) July 17, 2018
Swami Agnivesh said that there were no policemen around. Local reporters said BJP youth wing's workers were outside his hotel to protest his visit, but he was completely taken aback when he was attacked, he said.
"I had offered to hold a dialogue with them. But nobody came to speak to me. I was going to a sammelan (seminar) with my tribal friends when they launched an attack. They were carrying black flags and without any warning pounced on me. They punched, kicked and dragged me to the ground. They also used cuss words," Swami Agnivesh told media.
As per reports, the attack appears to be pre-planned and the police have detained 20 men for the violence.
Also read: Yashwant Sinha's four formula to defeat BJP in the 2019 Lok Sabha elections