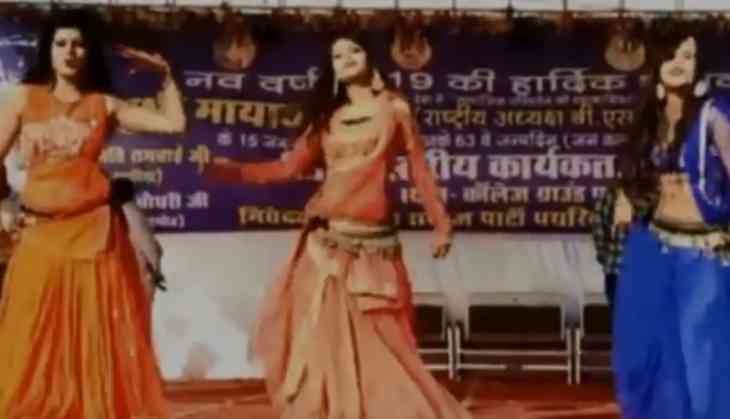 Bahujan Samaj Party chief Mayawati turned 63 and party worker had a big birthday bash on the occasion. On her birthday, Mayawati had a press meet after which party worker had organized birthday party event at several places, also multi-layer cakes were ordered.
At one of the birthday event, organized by party workers in Uttar Pradesh's Amroha, a multi-layered 63 kg cake was ordered for Mayawati's birthday celebration. A huge crowd gathered to pour well wishes to the birthday lady. However, in no time ruckus took place at the event after people loot the cake.
Watch: Here in the video people can be seen grabbing chunks of the cake with their hands and eating it.
#WATCH: People loot cake during an event in Amroha, on Bahujan Samaj Party (BSP) chief Mayawati's 63rd birthday today. pic.twitter.com/8Q4bDWdr66

— ANI UP (@ANINewsUP) January 15, 2019
In another event. BSP lawmaker from Pathariyan Ram Bai Singh and party workers threw a lavish birthday party for the people of Damon on the occasion of their Chief's 63rd birthday.
What surprising here was that bar dancer was called to perform at the event to woo their people and add glitters to the event. Those dancers grooved on Sapna Chaudhary's popular dance number 'Ankhya Ka Yo Kajal' and others. A huge cake was cut and distributed among people.
BSP legislator Ram Bai Singh said, "We invited the people of Damoh for the birthday celebration event of our respected leader Mayawati ji. I ensured them that since they have chosen me as their representative; they will never face any problem in the future."
Also read: Watch: Ruckus at BSP chief Mayawati's birthday event in Amroha after people loot cake; video goes viral